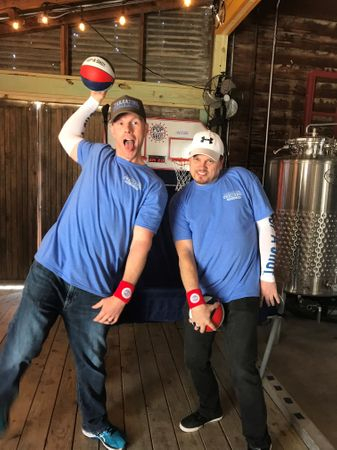 As I write this review, we are in the heart of March Madness season. For those that don't know, this is every basketball fans holy grail, their Christmas if you will. There are fun matchups with excitement and upsets that get even the casual viewer pumped up! It made sense that we teamed up with the iconic basketball game:
POP-A-SHOT. The Pop-A-Shot game is an indoor game that allows you to compete with your friends in a fun basketball competition. Instead of just watching March Madness why don't you start a little of your own March Madness with your friends?
We got our Pop-A-Shot game shipped to our local brewery (Railport Brewing Company) and the first step is to put it together. When you get yours in go ahead and budget about 1.5 hours to put your new Pop-A-Shot together. If you have a friend that is willing to help, you can cut the time down. We used a power screw driver and wrench to help speed the process up. There were no parts during the process that were too challenging for the average consumer, but again it will just take a little time.
The Pop-A-Shot game is fully electronic and the electronics easily connect behind the backboard to provide both an audio and visual experience for the users. There are sensors right above and below each basket to help digitally record the baskets made by each player. The audio has an option to use an external speaker (not included) that I would recommend. The built in speaker does not have enough power to really get the audio experience from this fun game.
Product Specifications:
Length: 88 inches (folds to 37 inches)
Height: 82/88/94 inches (w/extension tubes)
Width: 46 inches
Weight: 60 lbs.
Shipping Dimensions/Weight: 48" x 24" x 5½"/60 lbs
Here are additional product features to help better understand the Pop-A-Shot game and what you can expect:
Frame
Sturdy 1.5" diameter steel tubing for maximum strength, powder-coated to resist rust and chipping
Wheels
For easy maneuvering (the only game with wheels)
Ball Return Ramp
Heavy-duty nylon (won't sag, rip or fray)
Netting
Extra-long arms mean more net to contain shots
Backboard
Extra large (46" x 20") and extra thick (1/2")
Scoring System
Large , three-digit scoreboard with proprietary infrared optical sensor scoring system that correctly registers 98% of shots. Also has an audio jack to plug in external speakers (not included).
Power
AC Adapter/AA Batteries. You're not always close to an outlet, so we included an extra-long cord with the AC Adapter. And for even more mobility, you can use 4 AA batteries (not included).
Audio
6 total options, including 3 different music selections, sound effects (crowd noise and basket "swishes") and an announcer who calls the game.
Control Panel
Easily accessible in front of game to turn on, start games, change audio and choose games. Comes with "cheat sheet" for easy reference.
Balls
7 Mini Balls
We hosted a March Madness event at the local brewery and signed fans up to play in their own Pop-A-Shot tournament. As people were watching the Madness on TV there was madness happening on the Pop-A-Shot game. People were competing against each other with the winner moving on and some got super competitive. I had to advise some to not block each others shots, or hip check their opponent. Even after players lost they hung around as they wanted to watch the excitement and see who would be the champ. We crowned a champ after an afternoon of many baskets made, new friends were made, and smiles went all around.
In addition to adults enjoying this game the kids were enamored by Pop-A-Shot. Whenever the tournament was not going on the kids would take over the game and they played all day and had a blast. Maybe Pop-A-Shot is a babysitter replacement:)
One piece of feedback for those who have this game is to check the connections in the back to ensure the sensors register all the baskets. After playing the game for a while the impacts from the basketballs hitting the backboard appeared to loosen one of the connections and I noticed that all the baskets were not counting properly. I went to the back and then pushed all the connections back in and things worked fine afterwards.
Pop-A-Shot brings the fun to your home, or to your business. As a business owner you can brand this with your logo and have something that can bring customers in to have some fun.
Are you tired of just sitting on the couch while watching March Madness? Get off the couch and go Pop-A-Shot!