We love testing out new games! Some call it an addiction, we call it having fun! The most recent game we got our hands on is PopDarts. These are soft, dual suction cup style darts that allow you to play on a variety of surfaces. Now let's dive deeper in the PopDarts Game Review.
How To Play PopDarts
-Find your playing surface (think table or glass window/door)
-Place the orange target on the playing surface (this is where you'll be trying to get your PopDarts close to)
-Stand back 10 feet (adjust distance as needed for more fun)
-Alternate throwing the PopDarts with a competitor
Scoring
-Play to 21
-Only PopDarts that stick/stand upright gain points
-The PopDart that is closest to the orange target gets 3 points
-All other PopDarts that are upright are worth 1 point
PopDarts Testing
I saw this game go viral on social media and knew that we had to put it to our Tailgating Challenge. The game was so popular it had sold out, so we patiently awaited our set. When it came in my first thought was that this could be the most portable tailgating game I've ever tested out. It weighs almost nothing and comes in an easy carry sack.
I went to our ping pong table, placed the orange target on the table and then stood back and started flipping the PopDarts towards the target. Let me tell you, when the PopDart hits correctly and the suction cup sticks to the surface there is a very satisfying sound that it makes. Even without looking you know when you have a successful toss.
Speaking of tossing there are three main ways that we were throwing the PopDarts
Dart Style
Axe Style
Underhanded
We demonstrate these and other trick shot ways to throw your PopDarts in our video below.
Everyone that played this game came away saying: "Wow that was more fun that I thought…can we play again!?"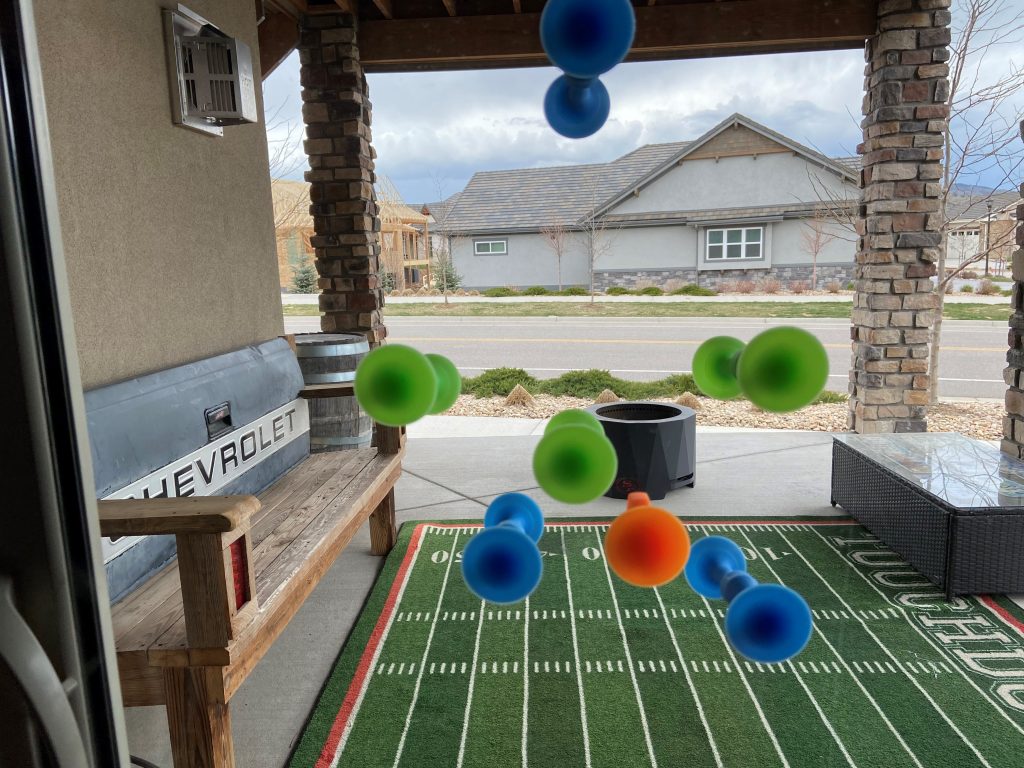 Where To Play PopDarts
-Tables
-Glass surfaces
-Cooler tops
-Street signs
-Walls
-The list goes on. Let us know what unique places you play PopDarts.
Conclusion
PROS: portable, fun, easy to play, play almost anywhere
CONS: I'd like a few more darts included in the game (currently comes with 3 of each color)
Overall, this game impressed us and all those that had the chance to launch a PopDart with us. This is a game that will entertain both kids and adults. The PopDarts game passed our Tailgating Challenge with flying colors.
Learn more and get your own by visiting POPDARTS.
Support us and find hundreds of the cool products we test out in our AMAZON STORE.
Thanks for reading our blog on the PopDarts Game Review. Let us know any questions you have and then watch the fun video below on how we played PopDarts.
Glow In The Dark PopDarts
Love learning about cool, new products? Take a minute and check out our PRODUCT REVIEW section.
We NEVER get paid for our reviews, so you can trust what we say is our true opinion. We were sent one sample to test out with the understanding that we'd give our honest thoughts on the PopDarts game.
Written By: Luke Lorick 4/24/21