Wagons can help you get all of your gear, or your kids from point A to point B. Many tailgaters have tons of gear, or some kids to take around. We have wagons that are built for hauling tailgating gear, but didn't have one to help properly bring the kids along. Our friends at Custom Folding Wagons had just what we were looking for with the Push Pull Folding Wagon. This wagon is loaded with features and even has 5 point harnesses to secure the kids. Now let's get into the Push Pull Folding Wagon review.
Push Pull Wagon Features
-Push/Pull feature
-360 swivel front wheels
-Backpack carrying case
-32 pounds
-Holds up to 150 pounds
-Storage compartment
-Dual 5 point harnesses to secure kids
-Optional rain guard
-Dual wheel brakes
-Canopy with built in sunroof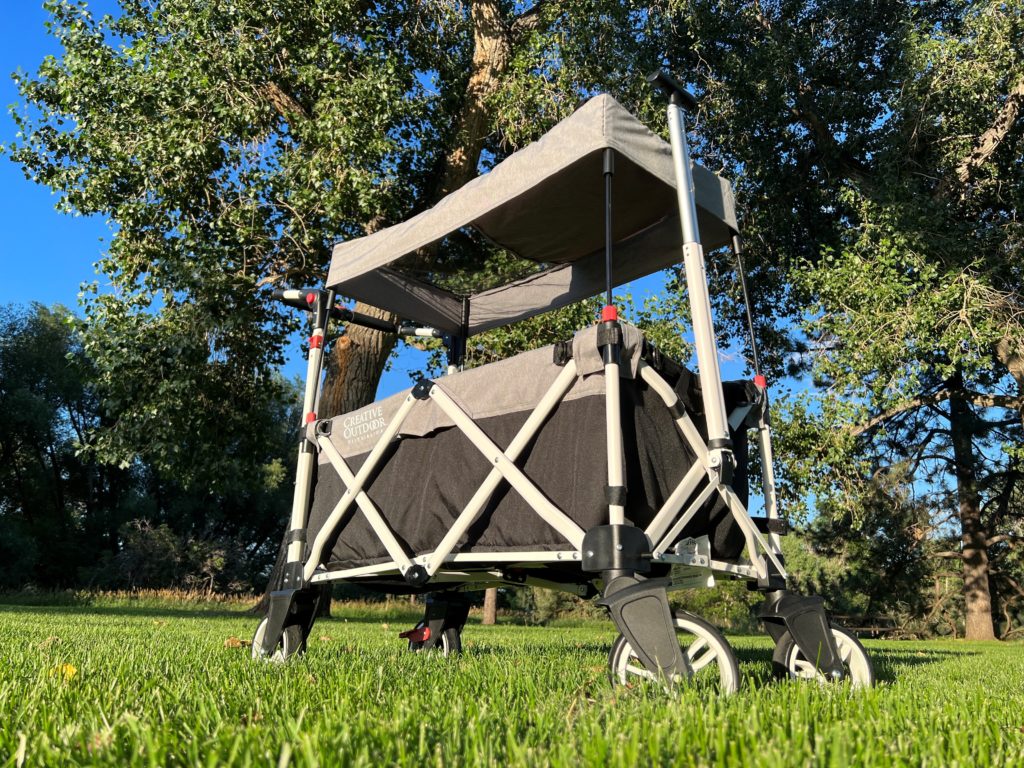 What Did We Think?
We were already fans of Custom Folding Wagon with the XXL Beach Hauler we have that helps get our gear around. When we heard about this push pull wagon with so many features it was a no brainer to see how it did in our Tailgating Challenge, as it could help parents who love tailgating.
This wagon has a backpack carrying case that is actually pretty handy for transporting this model around, when not in use. I will say it's tough to get all the parts back into the case after use. I have already shared with company and they are making tweeks to make this easier for all. Have to love a company that can take some feedback to keep making their products even better.
This unit unfolds easily and is extremely smooth to push or pull. The wheels are smaller than my other model, but that makes this easy to turn and move around. Did I say it was smooth, wow!
The push part of the wagon has two ways to adjust the handle. You can raise it up and also adjust the angle of the push handle. The pulling part of the wagon is spring loaded, so it allows you to pull it but the handle then pops right back up, in a secure location. This is great, as some wagons the handle is flopping around and you have to secure/position it so it doesn't fall down.
The canopy on this wagon is removable, so you can have it on to keep the sun off, or remove it for the convertible experience. When you have the canopy on there is even a sunroof that allows you to look down to see the cargo/kids.
This wagon also has dual brakes on the rear tires that do a great job of locking this wagon into place. If you live in a place with hills this is an extremely valuable feature, so the wagon doesn't roll down the hill without you behind it.
The wheels on this unit are much smaller than our XXL Beach Hauler and some questioned how this would handle going off road. The push pull wagon did well in grass, gravel, and even some rocks. Sure it wasn't as strong on going over uneven terrain as wagons with larger wheels, but this did better than anticipated. Knowing that this model wasn't designed with the intent to go off road too much, it met expectations in this area.
Finally, there is an additional option (sold separately) the rain guard. If you're worried about a summer storm popping up you can add this rain guard to keep everything in the wagon nice and dry.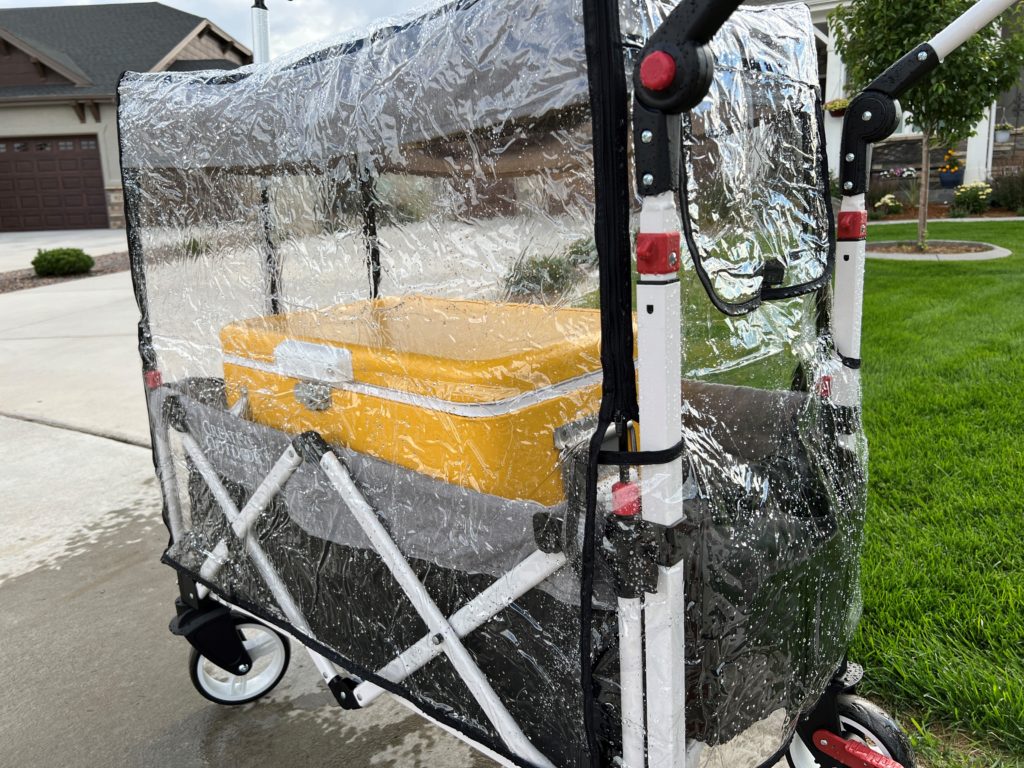 Conclusion
PROS:extremely smooth to push, canopy with sunroof, push/pull
CONS: hard to get all parts back into the backpack carry bag
Overall, this wagon is a great cross over for hauling gear and your kids around the tailgating party. If you're looking for a wagon that's loaded with features this could be the wagon you and your kids have been looking for.
Learn more and get your own by visiting Custom Folding Wagons.
Save with promo code: tailgating
Find this and many more amazing products that we've tested in our AMAZON STORE. A little bit of every purchase goes back to help support our honest reviews of the products you love.
Thanks for reading our blog on the Push Pull Folding Wagon Review. Let us know what you think and any questions. Check out our short video below and while you're on YouTube make sure you hit that SUBSCRIBE button!
Love learning about all the new products that we get to test? Take a minute and check out our latest PRODUCT REVIEWS.
We never get paid for our reviews, this way we can always keep it real with our fans. We were sent a sample to check out with the understanding that we'd give our honest opinions.
Written By: Luke Lorick 7/12/22