Love golf? Want to play putt putt at the tailgating party? In this new Tailgating Challenge we show off the Supersized version of the PutterBall game. The Putterball XL game, is the new tailgating game, that adds length and more holes to increase the fun and challenge of one of our favorite tailgating games. Now onto the PutterBall XL Game Review.
PutterBall XL Features
-Includes 2 balls and 2 putters
-Rough green edges to keep ball on greens
-Increase from 6 holes to 10 (vs classic)
-1 foot more width and 4 feet longer length (vs classic)
Comparison below showing XL on left and classic on right.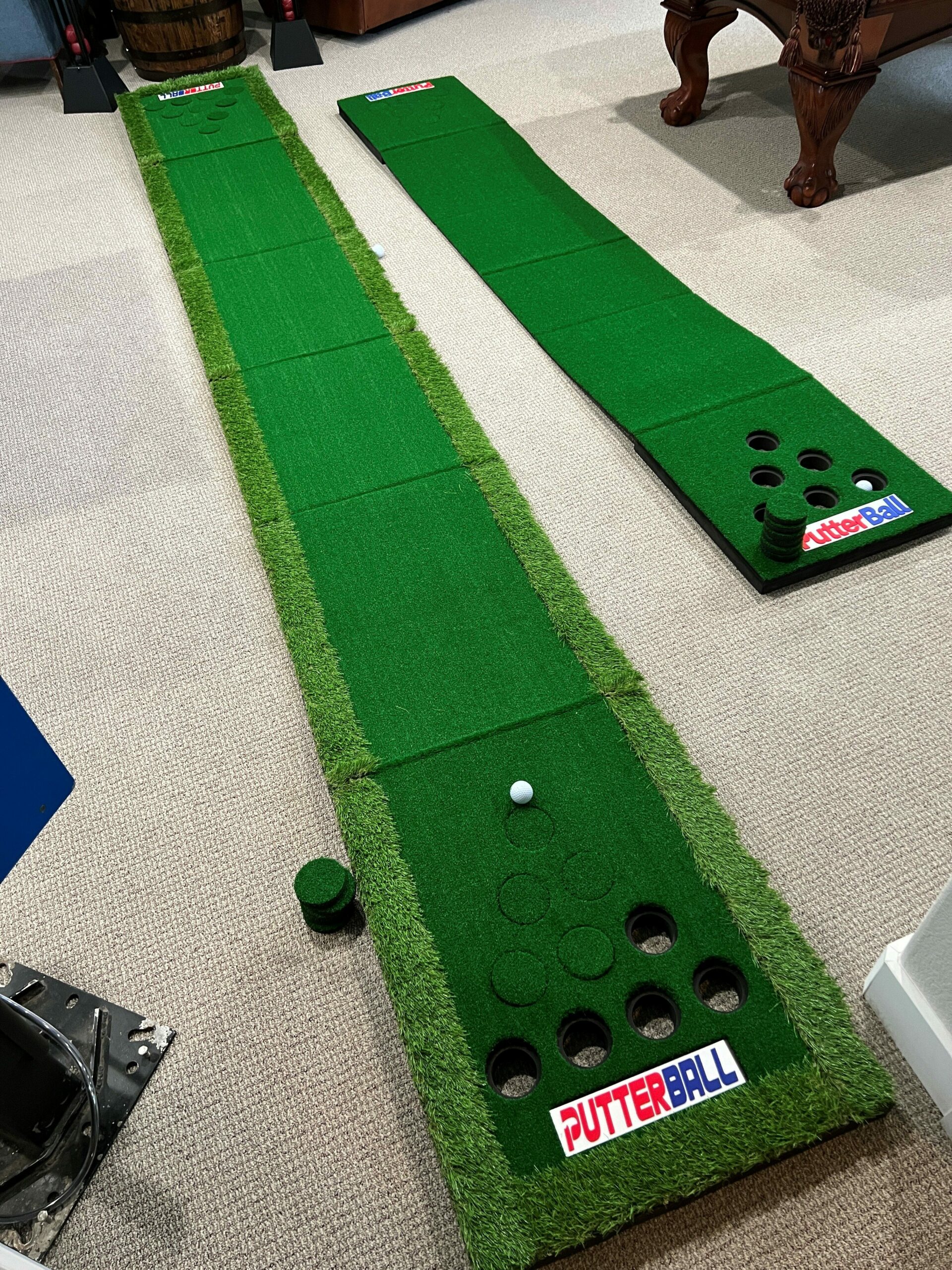 How To Play PutterBall
The game has the same concept and rules as the original PutterBall Game (see the Original Game HERE), in that you are trying to close all of your opponent's open holes, before they close yours.
If you play one on one you get two balls and as you make the shot your opponent has to close the hole off. Then your opponent gets two shots, and you go back and forth until one of you closes all of the holes. If you're playing 2 on 2 then each player gets one ball to putt.
Once you close all the holes up your opponent gets a chance for redemption and they can keep putting, as long as they make it. If they miss a shot before closing all the holes the game is over.
What Did We Think?
We were already fans of the original game and were stoked when we heard they were bringing out the XL edition. The game is bigger and heavier. It still folds up the same way as the last one, but I would like for there to be a way to secure the putting green, as given the extra size it's a more unwieldy than the classic edition.
The game plays the same, but you have to putt a little harder to reach your destination and the game will be extended given the now 10 holes that you have to cover up. While the game may take longer, new players love the fact that they have 10 holes to make it into, as the game starts. When you get down to the last hole, that's when you see who the real putting champion is. You can see in the video below how hard it is to get that last hole closed!
The rough green edges that now wrap around the border are a nice touch, as they help to keep the balls on the green and can be used as a 'backboard' to create some different style shots that you could not attempt on the classic version.
One other small upgrade on the XL edition is that the PutterBall logos are now magnetic. The original version would start to come off over time with extended use and hotter temperatures.
Conclusion
PROS: rough green edges, longer greens, more holes, magnetic logos, extremely fun golfing tailgating game
CONS: heavier and bigger than classic game when thinking of mobility for the game
Overall, the PutterBall XL game not only supersized the boards, they supersized the fun. If you love tailgating games and golf, it's a no brainer to check out PutterBall XL Game, like right now.
Learn more and get your own by visiting PUTTERBALL.
Find this game and many amazing products that we've tested in our AMAZON STORE. A little bit of every purchase goes back to help support our honest reviews of the products you love.
Thanks for reading our blog on the PutterBall XL Game Review. Let us know what you think and any questions. Check out our short video below and while you're on YouTube make sure you hit that SUBSCRIBE button!
Love learning about all the new products that we get to test? Take a minute and check out our latest PRODUCT REVIEWS.
We never get paid for our reviews, this way we can always keep it real with our fans. We were sent a sample to check out with the understanding that we'd give our honest opinions.
Written By: Luke Lorick 7/5/23