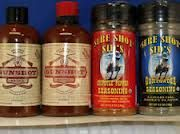 Eating and tailgating go hand in hand. You may not remember all of the details of a particular tailgate, but you always remember the food. Make an impression on your friends and try Sure Shot Sids sauces and rubs to bring your food from good to legendary.
Sure Shot Sids recently sent us a nice sampler package to try a variety of their products.  We had some friends over and put these products to the test. The favorite sauce was the Ghost Chile and the favorite seasoning was the original Gun Powder.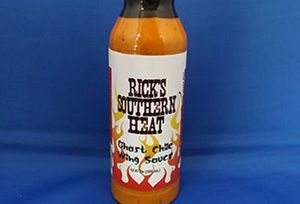 If you like your wings HOT then you need to try the Ghost Chile sauce. This stuff will catch you on fire, if you're not careful. It has been given a heat rating of 16 out of 10!  It has great flavor, but again not for those who live their life spicy.
The Gunpowder seasoning was also a hit. It brings out a very nice smoky flavor to your meat or vegetables. This is a must try for all.
PROS: adds excellent flavor to your meals. unique flavors that you can not get at your local grocery store
CONS: The sauces are moderately expensive
If you are ready to bring the flavor to your foods and impress your friends then you need to visit Sure Shot Sids and get a sampler order of your own.
Visit them today:
www.sureshotsids.com