A portable grill that is all natural and leaves no footprint? We found it with the Burnie Grill that is made from 100% Alder Wood. The idea for the Burnie Grill was developed in Northern Europe that utilizes a Nordic technique for burning Alder Wood stumps, a slow-burning, sustainable hardwood. This helps gives meats, fish and vegetables a smoky aroma and unique umami flavor. Now let's see how the Burnie Grill Review does in our next Tailgating Challenge.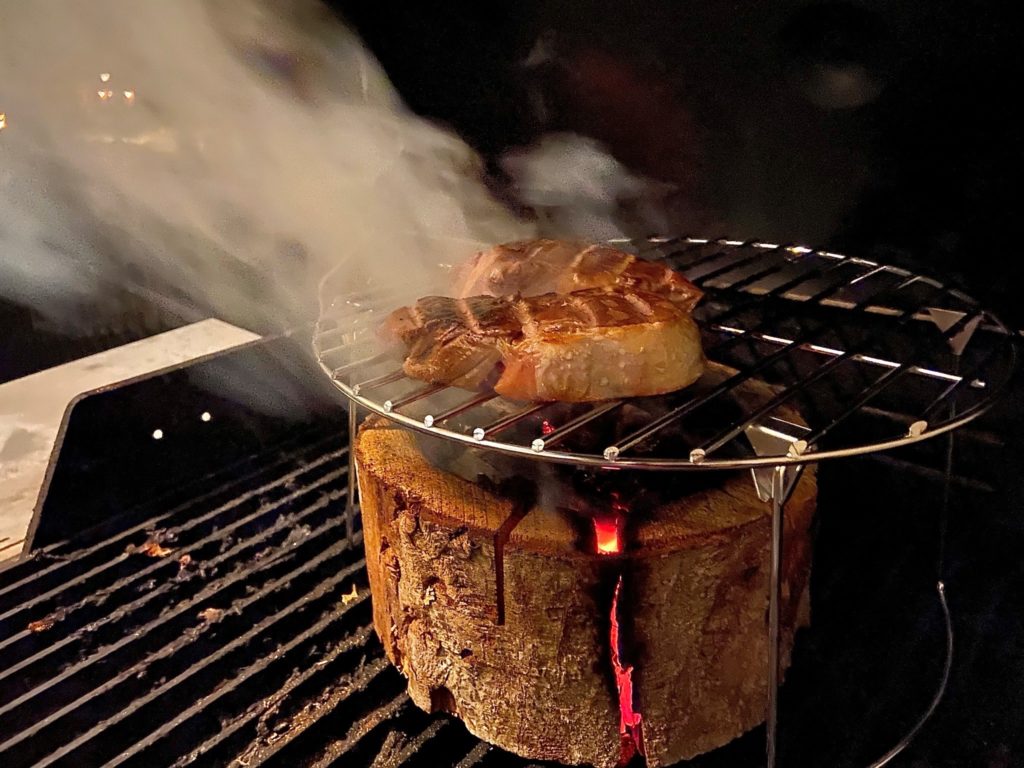 Burnie Grill Features
-100% Alder Wood
-Charcoal is made from Alder Wood too
-No Waste
-No Lighter Fluid
-No Chemicals
-No Clean Up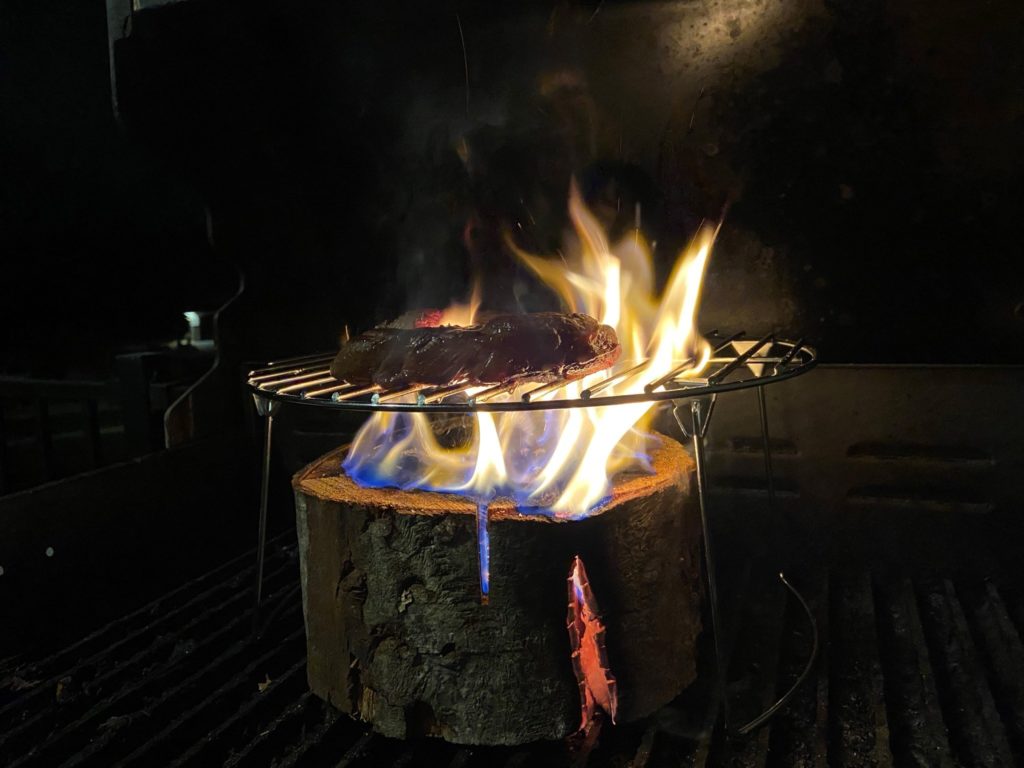 What Did We Think?
We cooked with the Burnie Grill two different ways: On our current grill and then on the Burnie-Q grill that allows you to use this grill anywhere.
First, lets put the Burnie Grill on our gas grill. This is an all wood grill and it burns down to nothing, so you can use it on your current grill. The Burnie Grill lit right up with the help of our SearPro Torch and in about 20 minutes it was really putting off some heat. I put some steaks on the grill and then closed the lid of the grill. When I opened the grill the smoke was intense (see the video to see what we are talking about)! This puts off some great smelling smoke, but I would recommend not closing your grill lid when doing this unless you want some serious smoke flavor on your food.
Next we set up the tailgate and got the Burnie Q grill accessory out that we put the Burnie Grill on. This is this a critical component if you're looking to take this alder wood grill to the tailgate, as you can't simply light the grill on the table, or on tailgate as it burns down to nothing and could damage what you place it on.
This was an awesome set up that created some amazing wood smell around the tailgate and like our last use once this things gets heated up it can cook quickly! We did some burgers that my wife, who always gives me helpful feedback with my burgers, absolutely loved. She said the that wood flavor that got into the burgers made them my best yet. I'll take that as a WIN!
We let one of the Burnie Grills burn all the way down, the large size, and it was burning for closer to 3 hours. This is longer than claimed on the package! For the medium sized grill we cooked our steaks and then poured some water on the grill and were able to use it again. These are meant for one time use, but there is the opportunity to get 2 uses out of them.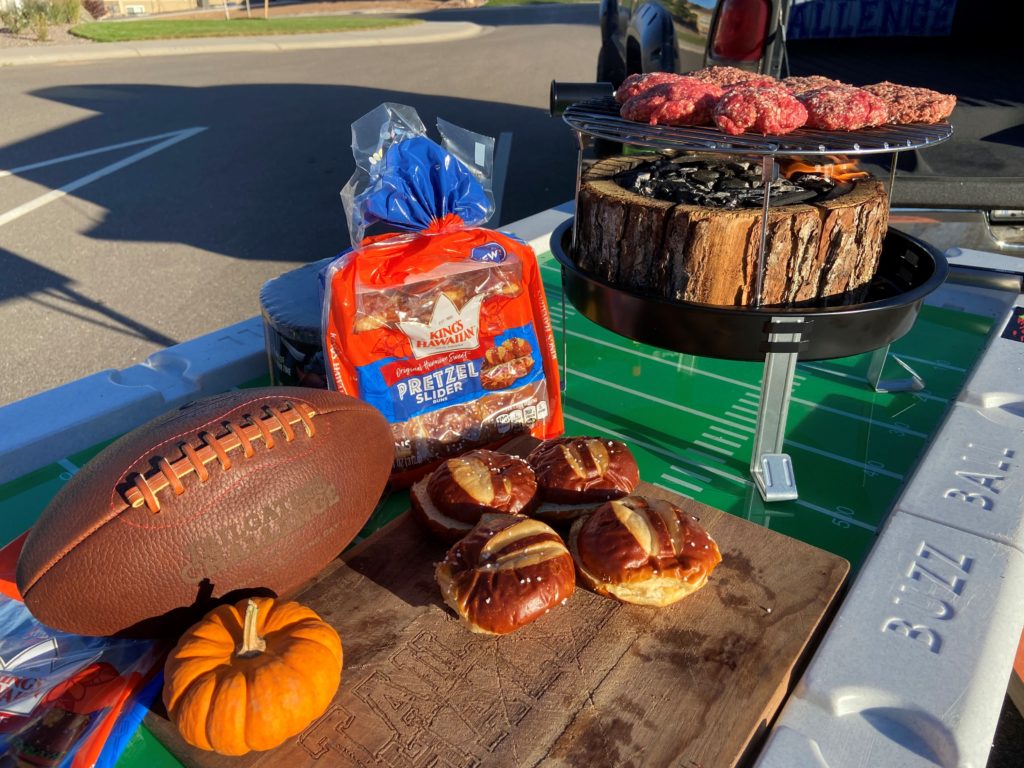 Conclusion
PROS: all natural, no chemicals, easy to start up, nice smell, adds good smoke flavor
CONS: if using in a grill it can be too smoky of a flavor (Pro tip leave the grill lid open), on windy days some ash will fly
Overall, this grill impressed me and my guests. I recommend getting the Burnie-Q accessory as that will open up more possibilities to use this grill anywhere. It smells great, makes food taste great and is eco-friendly. I'll say the Burnie Grill passed our Tailgating Challenge!
Learn more by visiting Burnie Grill.
Check out our Amazon Store to find some of the coolest items that we have gotten to test.
Thanks for reading our blog on the Burnie Grill Review. Let us know what questions you have and then watch our short video below. While you're on YouTube make sure you SUBSCRIBE! We have hundreds of fun videos that we'd love to know what you think.
Love learning about all the fun products that we get to test? Take a minute and check out our latest PRODUCT REVIEWS.
We NEVER get paid for our reviews, so you can trust what we say is the truth and NOT a paid advertisement. We were sent a sample to test out with the understanding that we'd give our honest thoughts.
Written By: Luke Lorick 10/9/21