We have tested City Bonfires out before. We know it's the bonfire in a can. We know its portable, provides good heat and adds some cozy to your tailgating party. Today we check on the new edition in the City Bonfires lineup. They have added the Portable Camp Stove/ Stand Combo that can turn the City Bonfire into a tailgating grill. Now let's get cozy and into the City Bonfires Camp Stove Review.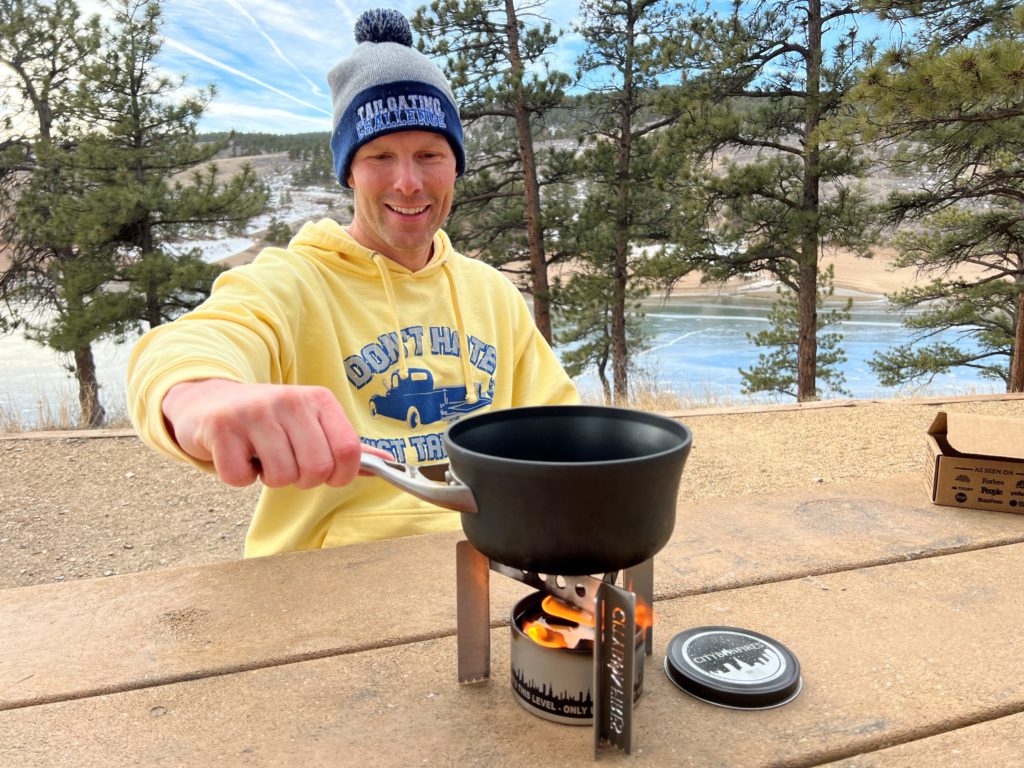 Camp Stove Features
-Sturdy and Heavy duty to help protect the surface you've placed your City Bonfire on OR flip it over to turn it into a stove
-Outdoor cooking feature that can hold pots/pans 4 to 10 inches in diameter
-Outdoor Use only
What Did We Think?
We mentioned we have tested out the City Bonfires before (watch our video HERE). We know what it brings to the party, so the focus in this review will be on the Camp Stove/Stand feature.
This stand is made from stainless steel and was able to be set up in about 10 seconds. If you are not cooking on the City Bonfire you can place the City Bonfire on top of the stand. This helps to protect the surface of what you're placing the City Bonfire on. When this bonfire burns near the bottom of the can it can get HOT. So hot that it can damage some surfaces. For example we have a wooden cooler and had a City Bonfire burn to bottom and it left a black char ring on the wood. These now come with warnings about burning them too low, but this stand takes the guess work out of it.
Next, lets flip the stand over and turn this into a stove. You can place it over the City Bonfire and then can add small pots and pans on top of this stand. This allows the ability to cook with this fire pit in a can. I set it up to cook an egg and the pan temp was above 275F in under 5 minutes. The egg cooked quickly and tasted like it was fresh off my stove top. It was cold the night I cooked (under 25F), so this will perform even in cold temps.
The only feedback we had was there was black residue covering the bottom of the pan we used, to cook on. This is the smoke coming off the City Bonfires and we were able to clean it off with some hand washing.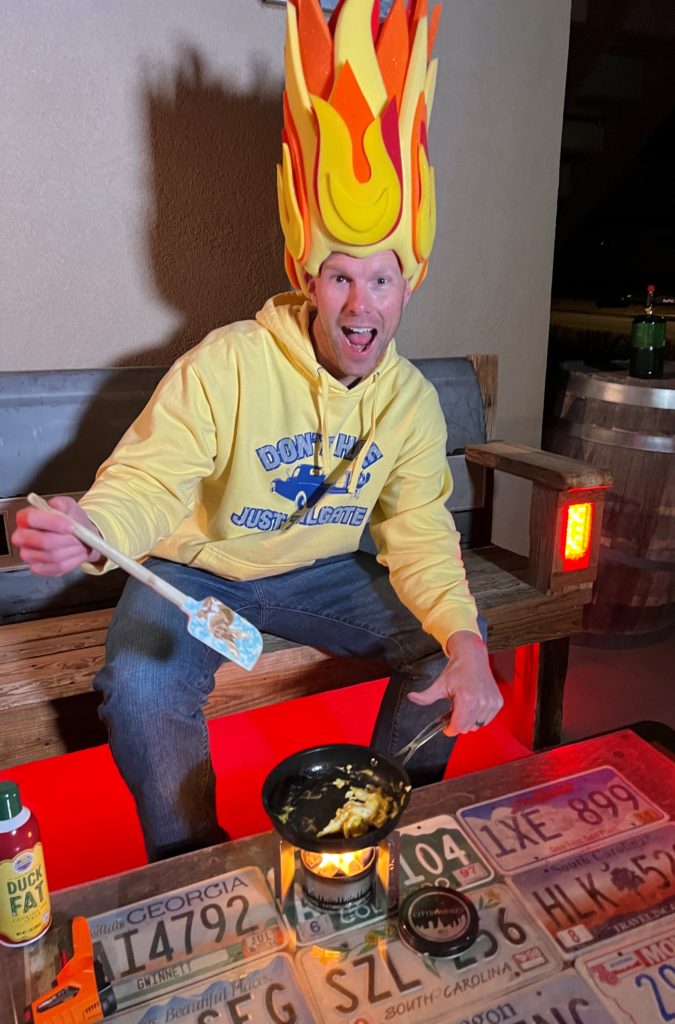 Conclusion
PROS: portable, sturdy, protects surface you use City Bonfires on
CONS: adds heavy black residue on pots/pans used to cook on
Overall, this combo can give you one of the most portable grills/stoves we have ever seen! It over performed in regards how quickly it cooked and the ability to protect surfaces when you're not cooking, is a win.
Learn more and get your own by visiting City Bonfires.
Find many amazing products that we've tested in our AMAZON STORE. A little bit of every purchase goes back to help support our honest reviews of the products you love.
Thanks for reading our blog on the City Bonfires Camp Stove Review. Let us know what you think and any questions. Check out our short video below and while you're on YouTube make sure you hit that SUBSCRIBE button!
Love learning about all the new products that we get to test? Take a minute and check out our latest PRODUCT REVIEWS.
We never get paid for our reviews, this way we can always keep it real with our fans. We were sent a sample to check out with the understanding that we'd give our honest opinions.
Written By: Luke Lorick 12/19/22