We love a great fire pit and we love Halloween. When I learned that there are skulls that are made to be in your fire I was super interested and had to get some of these Osker Fire Skulls. The claim is that they will look like real skulls and they will handle intensely hot fires, so you can use them over and over again. Let's see how this Fire Skulls review does in our next Tailgating Challenge.
Osker Fire Skulls Features
-Comes in 4 colors (beige, grey, blue and black)
-Handles up to 1,800 F degrees
-2 pounds
-9 inches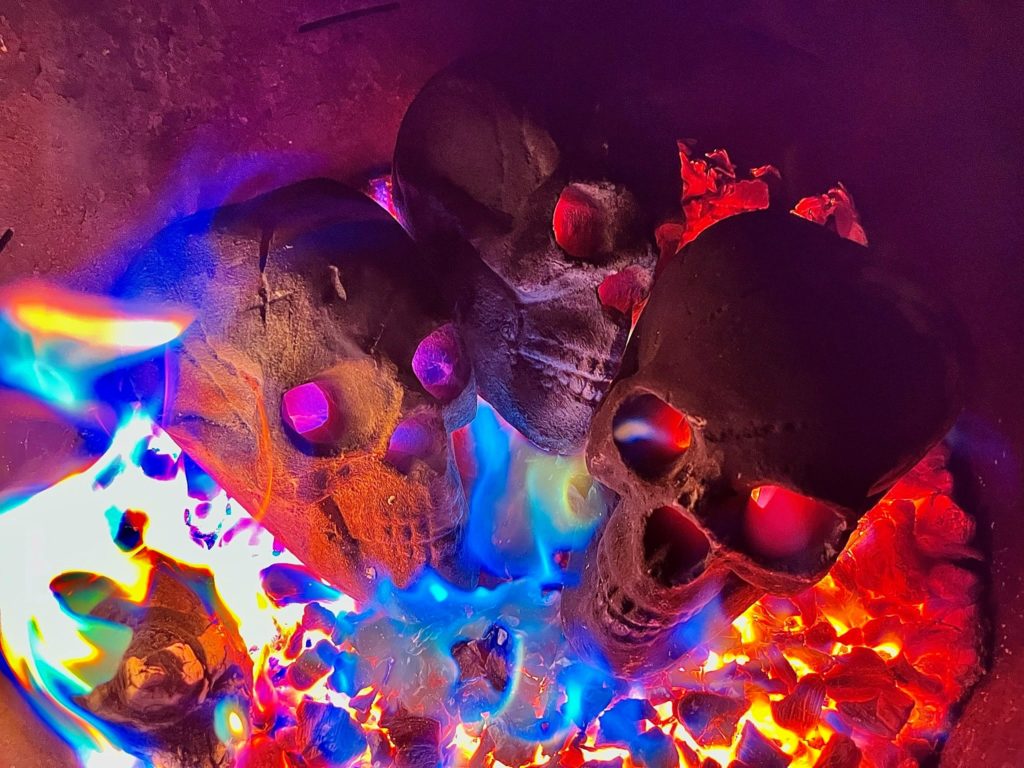 What Did We Think?
As noted, we love a good fire pit and spooky things, so we got one of each color to see how they held up in some of our fire pits.
When the fire skulls came in they were in perfect condition and looked pretty realistic. I loved the way the blue one looked the best. The black skull left a little black residue on my fingers, but no worries as that goes away after the first burn.
I started them out in our Ukiah Loom 2 dancing fire pit and put on some fun music as I watched the fire shoot out of the eye, nose and top of skull. It looked awesome. You can see in our video that that the tops of the skulls started to turn black in this propane powered fire pit.
Now onto the big bonfire pit that will really crank the temperatures up to test these fire skulls. We added an Enviro-Log and some wood to our Blue Sky Outdoor Living fire pit and put the fire skulls on top. We also added some Chromo Flame, made by same company that makes the fire skulls, to add some vibrant color to our fire pit.
The fire skulls looked absolutely amazing as the sun set and the flames roared. The flames dancing out of all the holes had us mesmerized as we gazed into the fire pit. One thing I noticed as the fire raged was that the skulls were holding up structurally well, but that all of them were turning black. This leads me to my recommendation that you should buy the lowest priced color of the fire skulls (they range on amazon from $40-$50 roughly) as over time they will all likely turn black if you're using a high powered fire pit.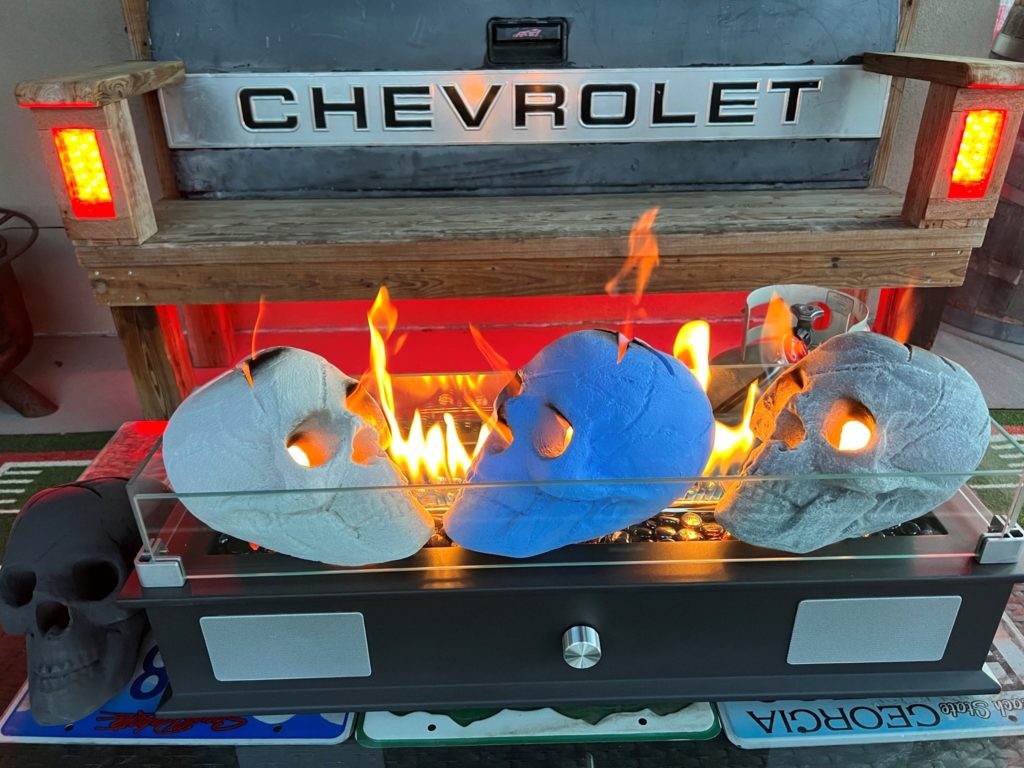 Conclusion
PROS: realistic, holds up well in the fire, adds a unique detail to fire pit night
CONS: colors don't seem to be that important given they all turn black after intense burns
Overall, I'm a big fan of these Osker Fire Skulls. My wife thinks a neighbor will call the FBI if they look in our firepit, so my PSA no one was hurt in the making of this video:)
Get your own from our AMAZON STORE.
Thanks for reading our blog on the Fire Skulls Review. Let us know what you think and any questions. Check out our short video below and while you're on YouTube make sure you hit that SUBSCRIBE button!
Love learning about all the new products that we get to test? Take a minute and check out our latest PRODUCT REVIEWS.
We never get paid for our reviews, this way we can always keep it real with our fans. We were sent a sample to check out with the understanding that we'd give our honest opinions.
Written By: Luke Lorick 4/4/22