Whiskey barrel furniture looks amazing and now there is a cooler that embodies this iconic style that you can bring to the tailgate. The Halftime Chiller is bringing you a whole new style of cooler that is sure to turn heads. We got our hands on this new tailgating cooler to bring you the Halftime Chiller Whiskey Barrel Cooler Review.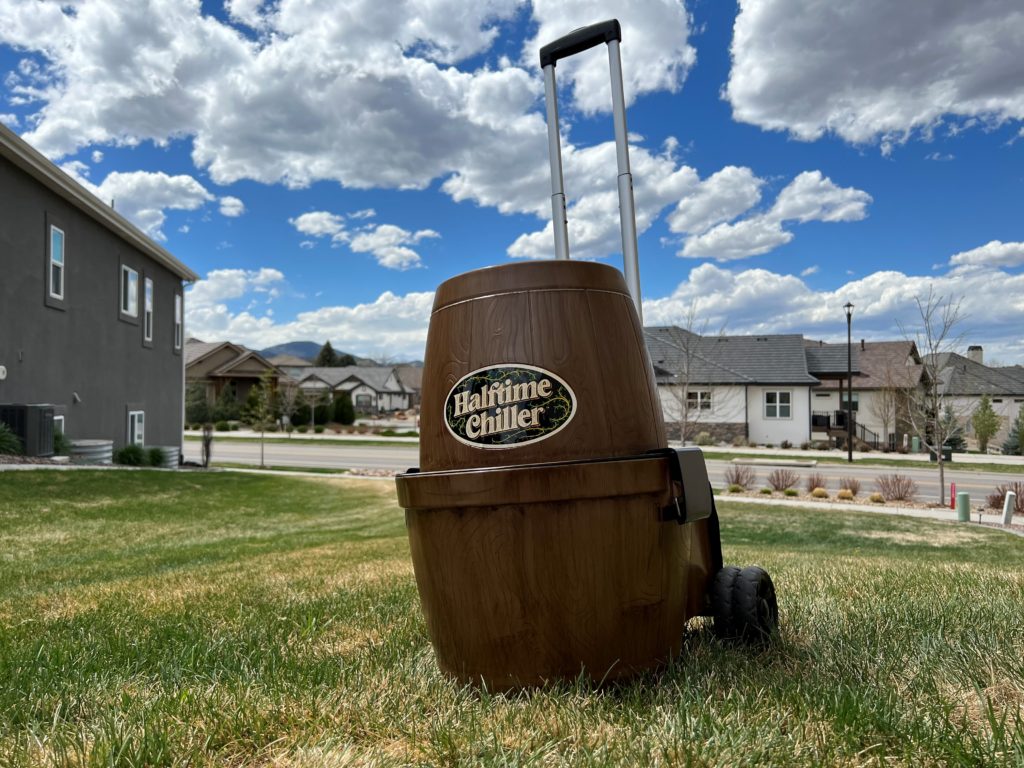 Halftime Cooler Features
-Dry storage inside the cooler
-Mesh netting storage on the back
-Adjustable handle
-All terrain wheels
-Ability to keep ice 10+ hours
-Padded seat on top of the cooler
-Holds up to 24 drinks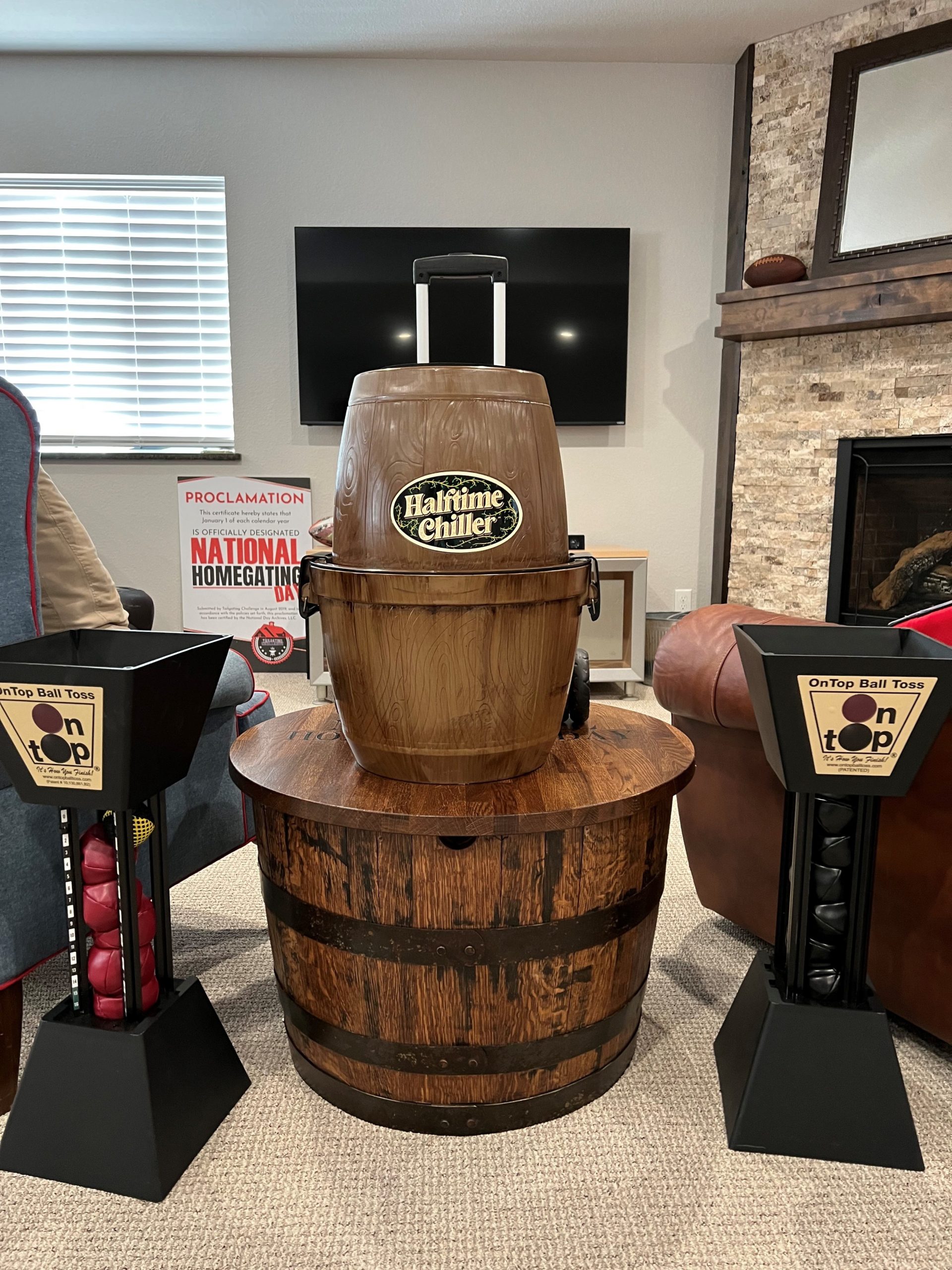 What Did We Think?
We have tested quite a few coolers in our day and know how to put a cooler to the Tailgating Challenge. As I scrolled through social media I saw the Halftime Chiller and had to do a double take, as I was like there is no way a tailgating cooler finally looks like a whiskey barrel?
The Halftime Chiller was made to bring a new style to coolers, but also started with the game of Pickleball in mind. The cooler has multiple dry storage areas, which I appreciate to bring some extra goodies on board. This cooler also has a padded seat! This is always a win, as we know good and well we will be sitting on top of the cooler, at some point. Might as well use some padding and make it comfortable.
Next up, let's talk about portability. The Halftime Chiller has an adjustable handle and wheels that really impressed. When you see the wheels you're not blown away, as they aren't giant wheels, but they got through grass, rocks and rolled right over the pavement. Each side has two wheels that helps keeps things spinning even in uneven terrains. The portability was the part of the cooler that impressed me the most.
Onto the chilling aspect. This is a great day cooler. It kept ice for 10+ in 80+ degree heat. This cooler isn't built for the let's keep ice for 7 days crowd. It's made for the let's go tailgate and drink all the beers in the cooler this afternoon crowd.
The cooler has 2 ways of getting a drink. One you can go through the padded seat and reach in to grab a drink. Another option is that you can also pop the two clasps on the side to open the barrel up.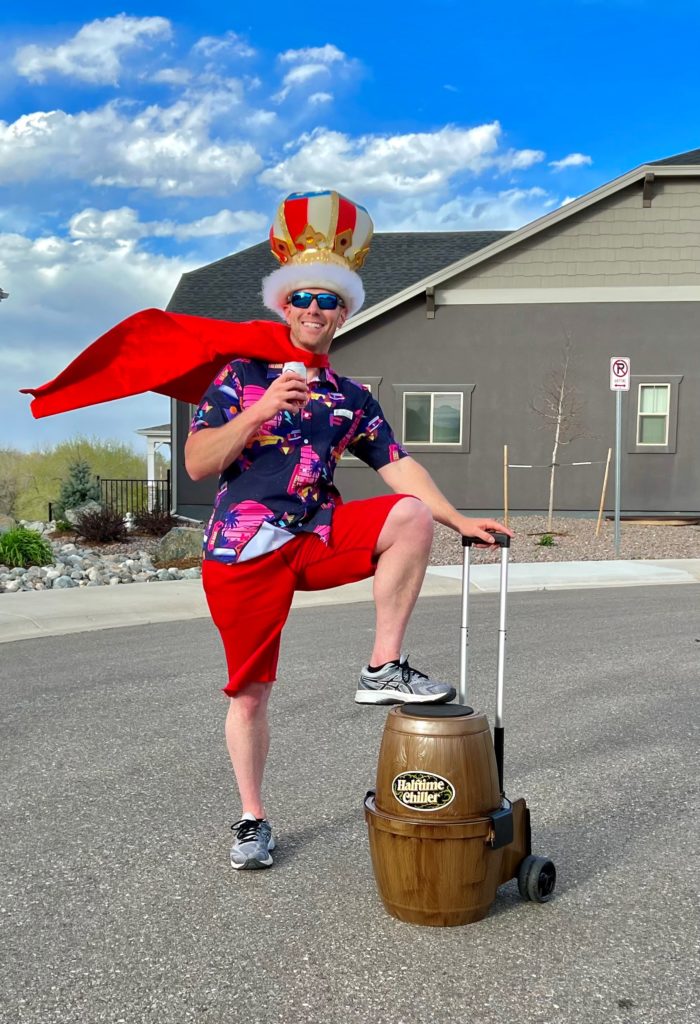 Conclusion
PROS: fun design, love the wheels, multiple areas for dry storage, padded seat, fair price point
CONS: not going to keep drinks as cold as a rotomolded cooler
Overall, this cooler performed well and got many compliments when we took it out to parties. If you love the style of whiskey barrels, then the Halftime Chiller could be the cooler you didn't know you needed, until now.
Learn more and get your own by visiting HALFTIME CHILLER.
Find many amazing products that we've tested in our AMAZON STORE.
Thanks for reading our blog on the Halftime Chiller Review. Let us know what you think and any questions. Check out our short video below and while you're on YouTube make sure you hit that SUBSCRIBE button!
Love learning about all the new products that we get to test? Take a minute and check out our latest PRODUCT REVIEWS.
We never get paid for our reviews, this way we can always keep it real with our fans. We were sent a sample to check out with the understanding that we'd give our honest opinions.
Written By: Luke Lorick 5/10/22