There are a huge amount of jackets, vests and other gear designed to keep you warm. The majority of these items all use your own body heat to keep you warm, but there are some that can actually generate heat to keep you warmer. Ororowear Heated Apparel has built in heating panels that heat up in seconds to keep you toasty warm on that next cold day.
We got our hands on one of Ororowear heated vest and a pair of heated socks. We just moved to Colorado, so we knew we needed to step up our winter gear. I've lived my entire life in the south and never had a big need to explore hardcore winter gear, but times change.
Ororowear Heated Vest Specifications:
-4 carbon fiber heating elements generate heat across core body areas (left & right pocket, collar, mid-back)
-Adjust 3 heating settings (High, medium, low) with just a simple press of the button
-Up to 10 working hours (3 hrs on high, 6 hrs on medium, 10 hrs on low heating setting)
-Heat quickly in seconds with 7.4V UL/CE-certified battery
-USB port for charging smart phones and other mobile devices (can fully charge a phone in about an hour)
We got the black Ororowear heated vest in and wished that it came in other colors, aside from just black. Black is a good color, but I do like options to express my style. We plugged the battery in the zipper pocket and note that the battery pocket is over sized, so it's an easy fit and the zipper pocket ensures that it will not fall out during your next adventure.  The battery is on the inside panel on the left side of the jacket. This positioning ensures that it won't be on your back when sitting down. The battery is still a little bulky, but all heated gear that I've tested have similar sized batteries. Once someone makes a smaller battery, that has the same power it will be a game changer for this market.
The heated vest has 3 different heat level settings that are accessed by pressing the button on the left breast side of the vest. The hottest setting will be indicated by a RED light and can be used for up to 3 hours. The medium heat setting is indicated with a WHITE light and can be used for up to 6 hours. Finally, the lowest heat level is indicated by a BLUE light that can be used for 10 hours.
I enjoy the hottest RED setting the most and can confirm that it heats the vest for right at three hours. In addition to bringing heat to the jacket, the battery can also be used to charge your cell phone. If you charge your phone the overall life of the battery will be reduced from the previous figures.
The heated socks from Ororowear are different than any socks that I've ever seen. First, they are the only heated sock I've ever tried and having a battery in the pocket of the sock is shall we say different. Further, these socks are LONG! I put them on and they came all the way up to my knee! That is the second way they can help keep you warm as they are socks that are almost a long as pants!
Let's check out some of the specifications on these heated socks:
-Heat on the sole of the foot
-Adjust 3 heating settings (High, medium, low) with just a simple press of the button
-Up to 10 working hours (5 hrs on high, 7 hrs on medium, 10 hrs on low heating setting)
-Heat quickly in seconds with 3.63V CE-certified battery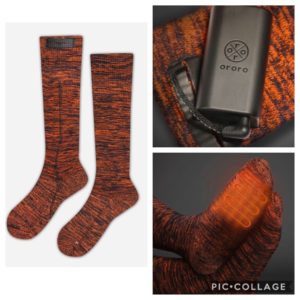 When I put the socks on I was surprised how long they were. They literally came all the way up to my knee. This is a little longer than I need for my socks to be. The socks are thicker, but moisture wicking, so I'd wear these while hiking, or potentially lounging around the house. On the outside of each sock there is a pocket to hold the battery that provides the heat to each sock.
The socks have three different levels of heating that is adjusted by a button on the battery. The socks don't have the same feel of heat as the vest does, but they do provide some ambient heat. With that being said, I'd recommend putting these on full blast heat. The heating element is on the bottom of the sock and would be nice if they would wrap the heating element all the way around the foot area.
I love the idea of a heated sock, but my feedback from using these more often would be:
-make it a shorter sock
-needs a smaller battery
-more overall heating area to wrap around foot
Overall, both of these are quality products, but personally I'll be using the heated vest more often than I will the socks. If you're tired of lazy winter gear that only uses your body heat to keep you warm, then its time to check out Ororowear Heated Apparel!
Ready for on demand heat? Check out Ororowear to get your heated gear here: https://www.ororowear.com/
Love our honest product reviews? Then check them all out in our PRODUCT REVIEW section.
This was a NON paid review. Ororowear sent us samples to test out with the intent of getting our honest feedback.
Written By: Luke Lorick 4/29/20