When you're making craft cocktails you have to ensure the proper pour to make it perfect! Sure, I get it I've been that guy that simply free pours when making mixed drinks in the past. As I've gotten older I can appreciate the finer details about making the perfect drink. That all starts with ensuring the proper amount of spirits are poured into the glass. Let's check out the new bar tool: Swish The Perfect Shot.
Swish Features
-Stainless Steel
-Dishwasher Safe
-Multiple measurements for whatever drink you're trying to make.
-Comes with Stainless Stand for easy storage when not in use.

What Did We Think?
When I first heard about this I was intrigued, but also thought do I actually need this to make a cocktail? It arrives in a classy package and has great presentation. When I removed it from the package it showed the sparkle of the stainless steel and it looked in one word: Classy!
It passed the eyeball test, now time to see how well it functions. I poured 2 ounces into the Swish and then placed it on top of the glass…SWISH the spirits flowed into the cup in a pretty awesome fashion.
It has 6 different measurements: 0.5 oz, 0.75 oz, 1oz, 1.5 oz, 2 oz, 3 oz.
I never knew how many different measurements some cocktails recipes called for, but this covers the gamut to ensure you have the perfect pour for any recipe your guests may want.
Speaking of pouring you will need to hold the Swish in your hand when pouring, which isn't bad, but I'd like to be able to pour with the Swish on the stand to keep both hands free. If you pour when its on the stand the contents will leak out.
Finally, it claims to be dishwasher safe so we put it through a wash and it came out looking the exact same, so it passed the dishwasher test.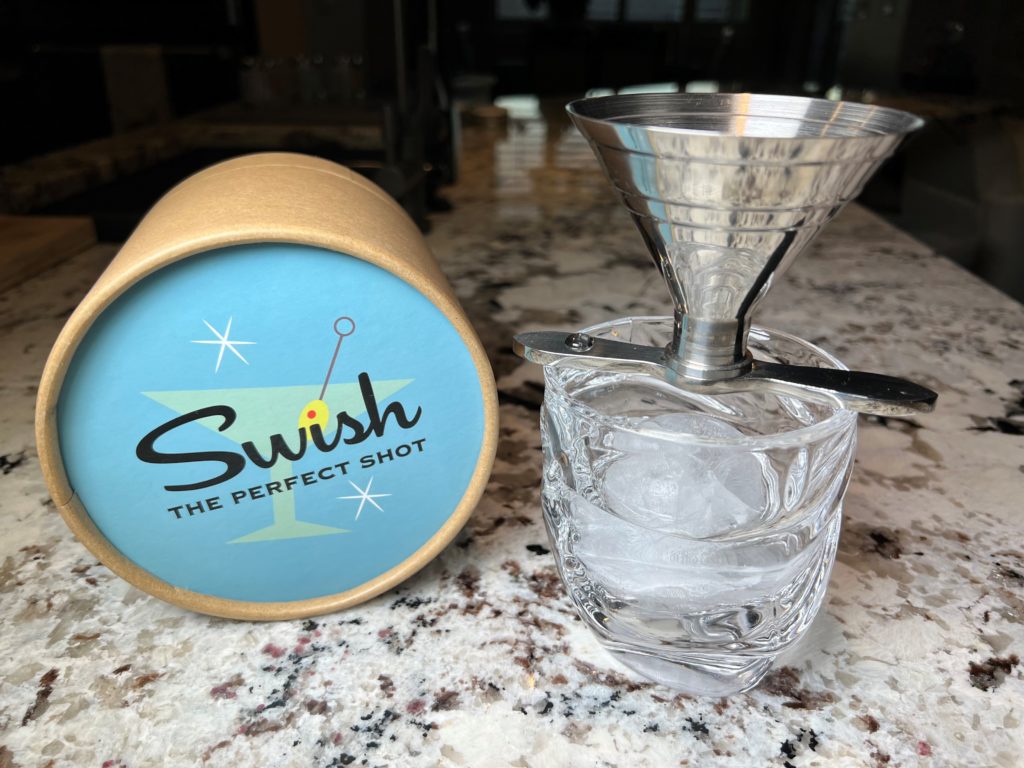 Conclusion
PROS: classy look, fun way to pour a shot, easy to use
CONS: I would like to be able to pour the shot when its on the stand to free up my hands, this does not work currently
Overall, the Swish is a fun and precise way to pour a shot of your favorite spirit into your next mixed drink. This is a fun tool to keep at your pour that will make better cocktails and also impress your guests when they see it in use.
Learn more and get your own by visiting SWISH.
Find many amazing products that we've tested in our AMAZON STORE.
Thanks for reading our blog on the Swish The Perfect Shot Review. Let us know what you think and any questions. Check out our short video below and while you're on YouTube make sure you hit that SUBSCRIBE button!
Love learning about all the new products that we get to test? Take a minute and check out our latest PRODUCT REVIEWS.
We never get paid for our reviews, this way we can always keep it real with our fans. We were sent a sample to check out with the understanding that we'd give our honest opinions.
Written By: Luke Lorick 4/27/22