We love playing yard games, especially ones that can bring the fun in an all new way. We found an all new way to have some fun playing the TopBlock game. This is a building block style game that uses your skills of throwing 'bags' at a tower of blocks. You get points based on how the blocks fall. This game is portable, so we took TopBlock to the top of our favorite mountain to see how it did in the next Tailgating Challenge.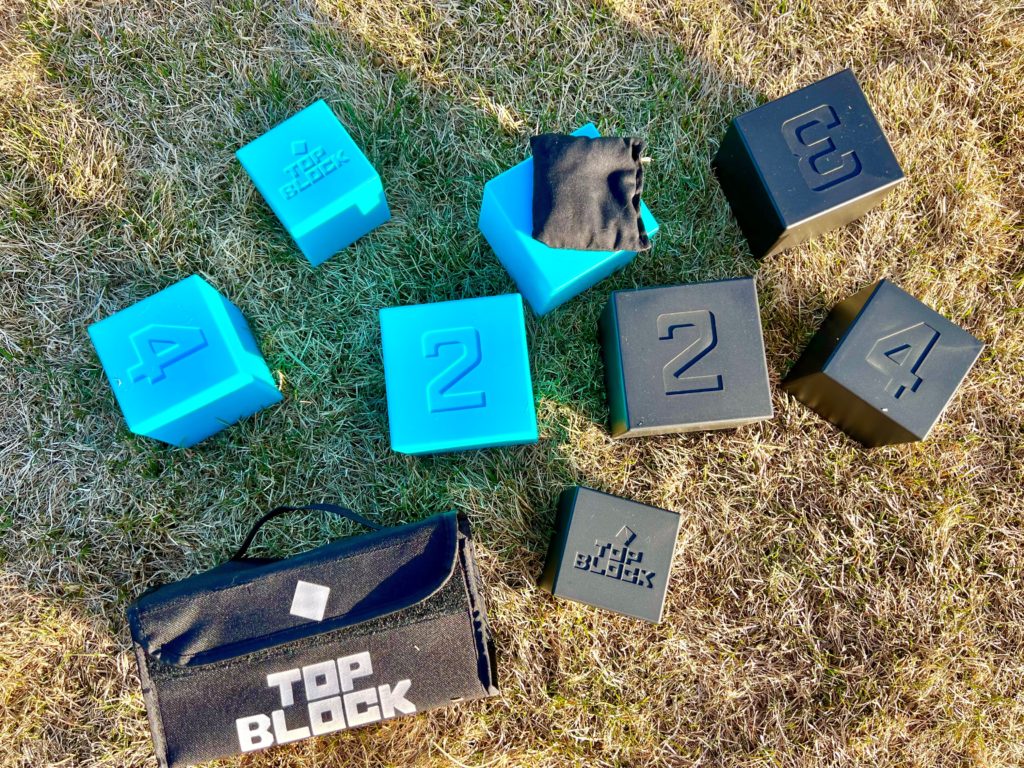 How to Play TopBlock
My high level rules are set up block stacks 15 feet apart and first to get to exactly 15 points wins.
There are two bags included and each side/team gets to toss 2 bags and then add up the points at the end of each round.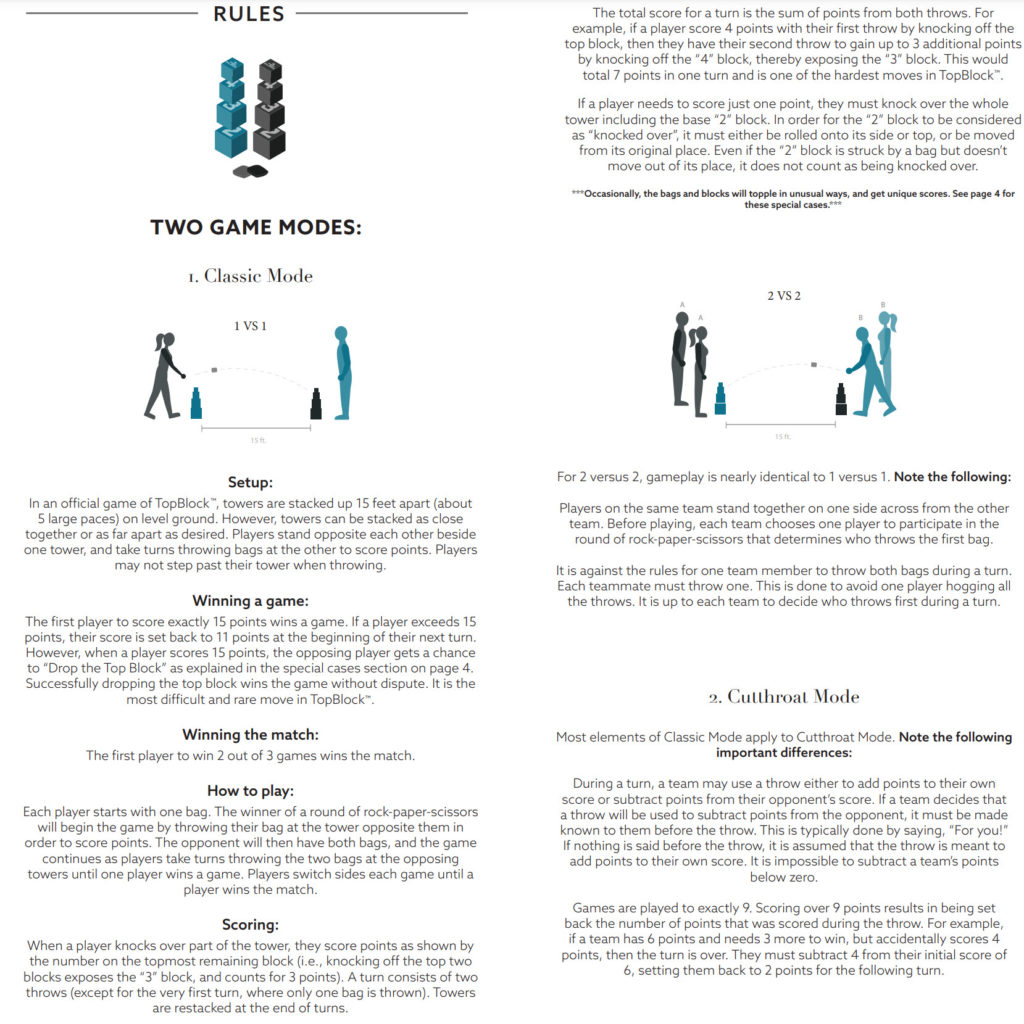 TopBlock Scoring
Standard scoring you can get 4,3,2,1 points. There is special scoring that you can see below, but lets focus on the more normal scoring.
If you knock off the top block you get 4 points.
If you knock off the top block and the block underneath it you get 3 points.
If you knock off the top 3 blocks then you get 2 points.
Finally, if you knock over all the blocks and the bottom block you get 1 point.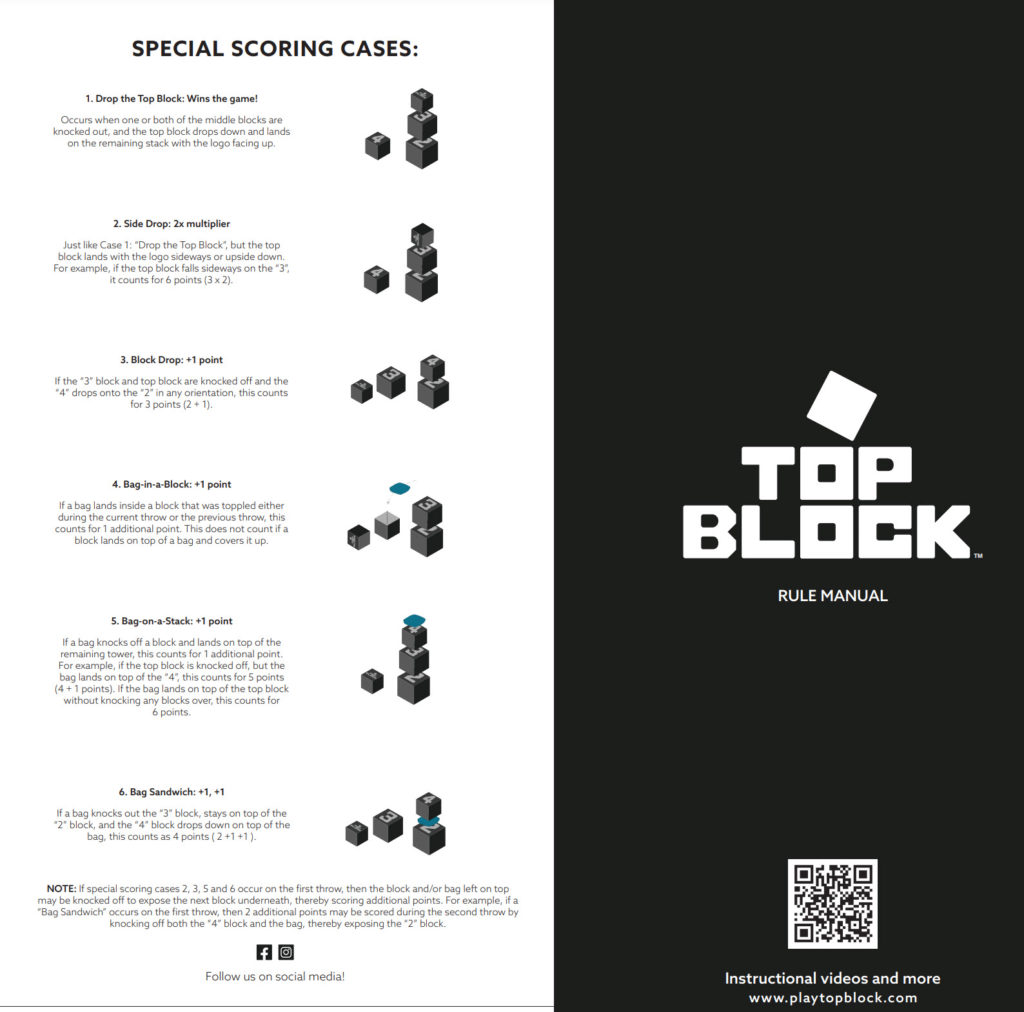 What Did We Think?
First, I have to say this again I love the portability! This game is super compact, but plays like a larger lawn game when you set it up. There are many games that are simply too big and don't make transportation easy. TopBlock wins the portability challenge.
Fun is another big area we like to focus on with yard games. Is it easy to learn, do others like it, will you keep playing it? I'll also that that answer is yes. Let me elaborate. This game brings the fun, as there are multiple ways that you can score points and what keeps you further engaged is the special scoring shots we looked at earlier. When you think about one of those happening you get excited and look forward to that truly special shot.
To show how portable this game was we took TopBlock to the top of a mountain to have some yard games fun at 9,000 elevation! It was pretty epic to see the Rocky Mountains behind us while we took our turns playing TopBlock
The two things I'd like to see for future enhancements with this game is making the other set of towers a brighter color. The teal stands out and while no issues with the black color a bright color would make it pop. Further, these blocks seem to have a magnet for dirt and will pick up dirt, grass, and even hair with their magnetic like powers.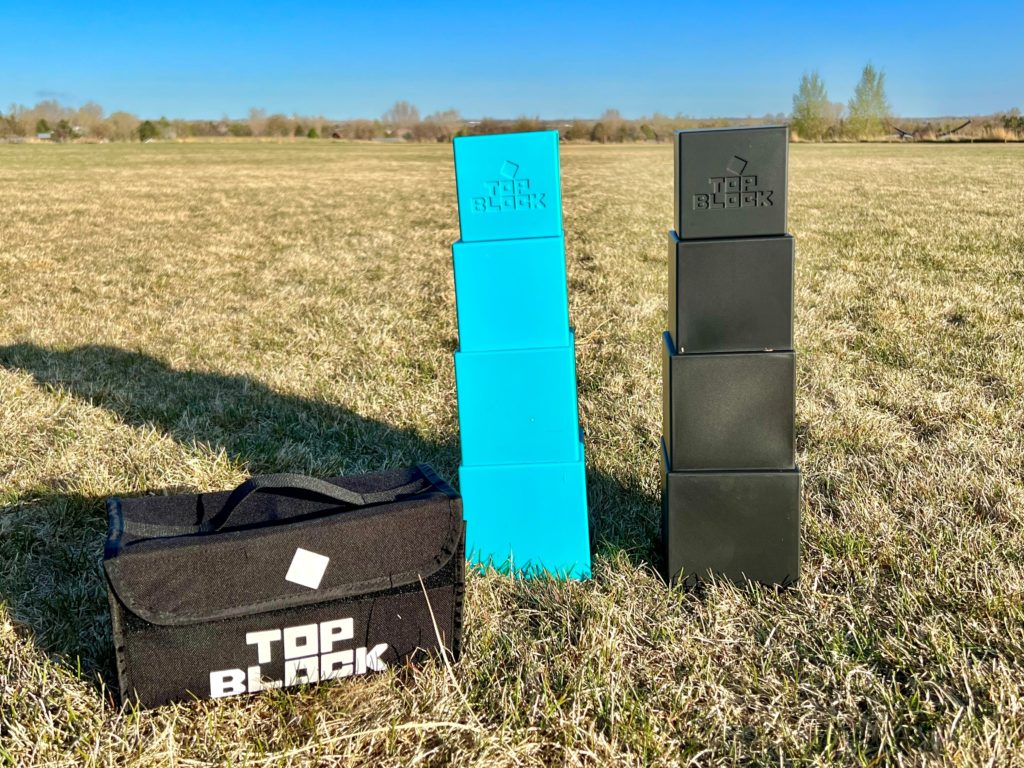 Conclusion
PROS: portable, fun, different ways to score, special scoring, bright color teal tower
CONS: find a way to not have the block pick up any and all dirt/dust/hair and grass when the topple.
Overall, this game is a win from fun, portability and staying power. We will be playing this game more as we get closer to our National Yard Games Day.
Learn more and get your own by visiting TOPBLOCK.
Find many amazing products that we've tested in our AMAZON STORE.
Thanks for reading our blog on the TopBlock Game Review. Let us know what you think and any questions. Check out our short video below and while you're on YouTube make sure you hit that SUBSCRIBE button!
Love learning about all the new products that we get to test? Take a minute and check out our latest PRODUCT REVIEWS.
We never get paid for our reviews, this way we can always keep it real with our fans. We were sent a sample to check out with the understanding that we'd give our honest opinions.
Written By: Luke Lorick 5/2/22