Ever met someone that created a National Day? Well you have now! For those that don't know my name is Luke Lorick and I created National Homegating Day (Also founder of National Tailgating Day). I moved to Loveland, CO at the start of the Coronavirus from Waxahachie, TX. I had no idea at the time that Homegating was about to blow up. Let's check out some Homegating Tips for National Homegating Day.
I've had a passion for tailgating for years and even created a fun brand: Tailgating Challenge (established 2012) where I have gotten to test hundreds of unique products. From motorized coolers to smokeless fire pits, I love showing off the latest and greatest with our amazing fans. For those that have been around they know after the review is completed there is a good chance they will get a shot at winning that item.
Given my strong passion for tailgating I also appreciate tailgating at home which is better know as Homegating. I went through the National Day Archives registrar to present a new proposal to found National Homegating Day. National Homegating Day was founded in 2019 and is celebrated each Super Bowl Sunday, the biggest Homegating party of all.
The Coronavirus has changed the landscape of tailgating, this year, but I know that true tailgaters will always find a way to have some fun. Homegating is moving the party from the parking lot to the comfort of your own home.  Even before the pandemic I hosted plenty of homegating parties, as I wasn't able to get out to tailgate every single weekend. Having a few of your friends over with all of the comforts like a big screen tv, comfortable seating, food, cold drinks and restroom all under your own roof is still a big win.
Super Bowl Sunday as always been the biggest day of homegating across the country. People who don't even like football gather together to fire up the grill, crack a cold beer, in preparation of the biggest game of the year.  It made sense to align National Homegating Day with the day most people homegate! We even picked out our TOP 10 Homegating Products that could take your homegating party to the next level.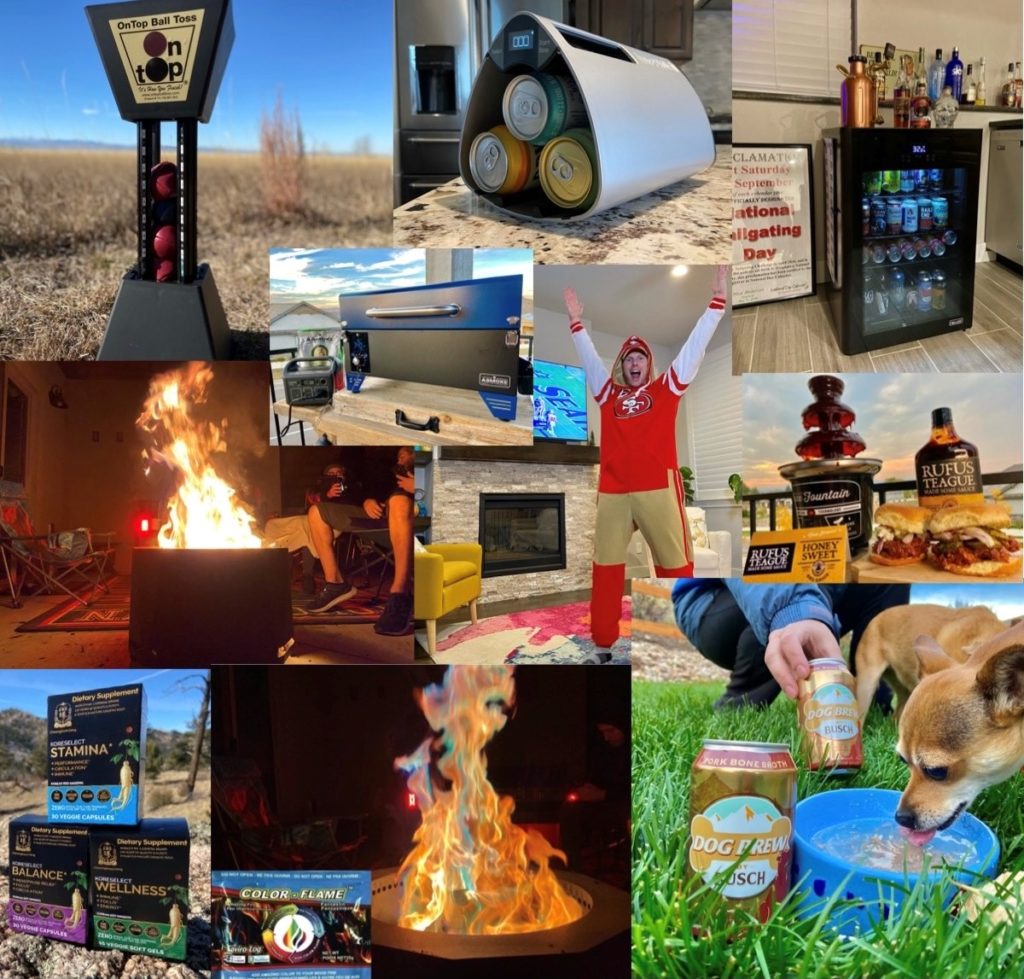 Now let's break down some homegating tips to make sure your National Homegating Day is both fun and safe this year.
Practice Safety
We are in a pandemic so keep the guest list a reasonable number, under 10 people is a good benchmark. Keep hand sanitizers around the house. Set up an outdoor area to allow people to be outside and socially distance. Set up multiple tv's so guests can maintain social distance while still being together to cheer on their team. Don't have a buffet style food offering. Have a single person serve all the food after cleaning hands and wearing a proper facemask to ensure no transfer of germs to the food your guests will be eating.
Seems like a no brainer but a few degrees can make a big difference. Stock an outside cooler with plenty of ice and drinks. There are even ice packs that can keep things colder than ice. These also have the ability to be reused, so it's a no brainer to have some of these on hand. A mini fridge around the TV will also ensure that there are drinks available for the guests who are watching the game and they don't have to go all have to go through the kitchen, and around the food, to refresh their drinks. Finally, if the drinks you have aren't cold enough there are devices that can help you supercharge your chilling in a matter of minutes.
Games don't stop just because you're at home. All of your favorite games from the tailgate are perfect for your backyard. We all know that cornhole and beer pong are the most common games and while these are fun there are so many other unique games out there to try. Keep a variety of games that you can challenge your guests to, on hand. This will ensure that no one ever gets bored with any game during your homegating party. Make sure you keep hand sanitizer near the game to ensure safe play for all.
When you're at home you have all your tools at your disposal to be the grillmaster. When you tailgate you may not be able to bring your big grill and other tools, but at home you have it all at your finger tips. Pellet grills are all the rage and these are the perfect set it and forget grills that bring big flavor and amazing smells while you're outside playing those homegating games.  Make sure you have options for those guests who may be vegan or gluten intolerant. Did you know there is actually a pocket-sized tester to show you if there is any gluten in the food you are eating? It could save the day and you'll end up being the real Super Bowl champion for saving the day.
This is always one of my tips as I've seen too many times that one party goer who over indulges and could hurt themselves, or others. When your guests arrive have them put their keys in a basket and only give them back when they are safe to drive. Another good tool to keep on hand is a personal breathalyzer. These can help someone, who doesn't think they are dangerous to others, see exactly what their blood alcohol content is. Seeing is believing and this could save their life, or others.
I hope these tips help make our second annual National Homegating Day the best yet. We want to see how you homegate, so make sure you tag @TailgatingChallenge and use #NationalHomegatingDay in your posts.  Until next time remember the homegating motto: "Don't Hate, Just Homegate."
Written by: Luke Lorick 1/26/21