Being the tailgating afficianado that I am, I love to check out a variety of different tailgating venues, outside of just football. Last night, I had the opportunity to attend the Grateful Dead show here in Dallas, TX at American Airlines center. I've never been to see THE DEAD before, but when offered the chance to go, of course I said yes.
I pulled into the parking garage and there were some people here and there that were tailgating and drinking a few beers out the back of their vehicle, but really no tailgating gear, or big set ups in the garage. We met a few people that are all extremely chill and nice but, then it was time to explore the area to see what the Dead are up to.
This was my first dead show, so I was set to learn quite a bit today. I learned the spot to head to was SHAKEDOWN. The Shakedown is where all the fans go to hang out before the show. The Shakedown is a large area that vendors and cars can park and have a big tailgate. The vendors were selling many food items. My favorite sign was the the grilled cheese vendor and from the sign it appears they use BACON in their melts:
Everyone was decked out in their dead gear, which for most is brightly colored tie dye shirts. I even had one made for me in a polo style to be a little different (you know how I roll). In walking around the Shakedown one thing that was strange was there were NO BATHROOMS. We had to go across the street to CVS (shout out to CVS for letting everyone come over to use the bathroom). #HippiesUseSideDoor
In addition to the food vendors there were many shirts, posters and heck even cold beer being sold out of coolers. We came upon a full sized school bus that had the HIPPIE touch, shall we say. The owner was gracious enough to give me a tour and wow he spent some time and money on this thing. The funny part is he parks this in a VERY affluent neighborhood here in Dallas, TX. The neighbors love him, I'm sure!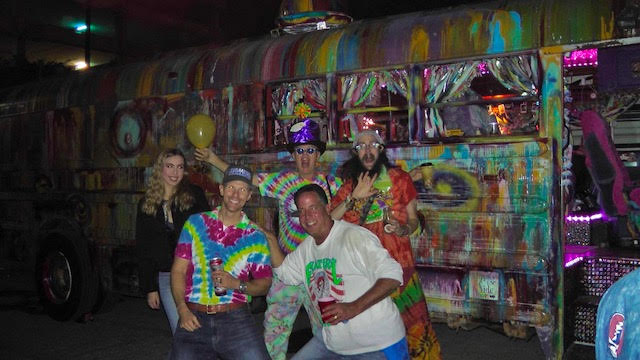 I did a short walk around video to give you a perspective of what you can expect if you attend a Grateful Dead Shakedown:
It was then time to hit up the concert and see the Grateful Dead with John Mayer on the guitar! The Dead faithful showed up big time and almost packed out the arena. Beers were crazy expensive inside, to the tune of $24 for 2! People, this is why we tailgate before an event! An excellent show that lasted over 3 hours then transpired with Dead fans of all ages rocking the stadium. Literally, there were small kids, teenagers, young adults, and a more tenured bunch too. Throughout the show there were the Dead being the Dead and lighting up things that I don't believe were cigarettes LOL.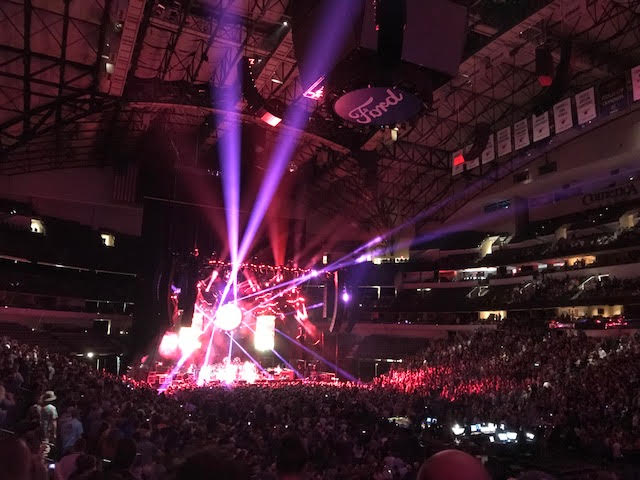 After the show we returned back to Shakedown to check out the after party and boy were they having a good time. The cool part about tailgating with the Dead is that everyone is happy. I didn't see one fight, argument or upset person. Unfortunately, when sports are involved that can't always be said. During the after party there were vendors placing a gas into balloons that people were going crazy for. I had never seen this before and learned that it was nitrous oxide or laughing gas (I did not sample one, but they were $5 bucks a balloon should you be around). It got even crazier as people came out with megaphones to announce they were selling 'special' brownies. This was shocking to me as we are in downtown Dallas, a place where these type of brownies are not yet legalized and they were announcing on a megaphone they were selling them (again I didn't buy one, but for those that are interested they were going for $10).
It could be brownies, it could be the balloons or it could just be everyone there was just real chill, but I had a great time checking out the Grateful Dead and the Shakedown. I encourage YOU to try tailgating for more than just football games. This is Luke with Tailgating Challenge. Get out there and tailgate!