I was able to make it to College Station this past weekend to check out the tailgating scene at the South Carolina Gamecocks vs Texas AM football game.
The kickoff to the game was at 6:30pm and I drove in from Dallas early that morning to get there around noon. I met up with some friends at a nearby hotel and we actually did some HotelGating for a couple of hours. No really, we set up camp in the Hawthorne parking lot and got down to tailgating!
I learned that while its called tailgating at Texas AM you can't actually have a tailgate around the stadium as you can't park and tailgate out of your vehicles, like I am used to. We took a LYFT from our HotelGating to the stadium to walk around and ensure we got the full game day experience at Texas AM.
There are white tents all around the stadium where tailgaters can set up shop and enjoy some pre-game festivities. There was no shortage of tailgaters around, heck Texas AM boasts one of the largest stadiums in college football and the fans show up to have a big time before kickoff.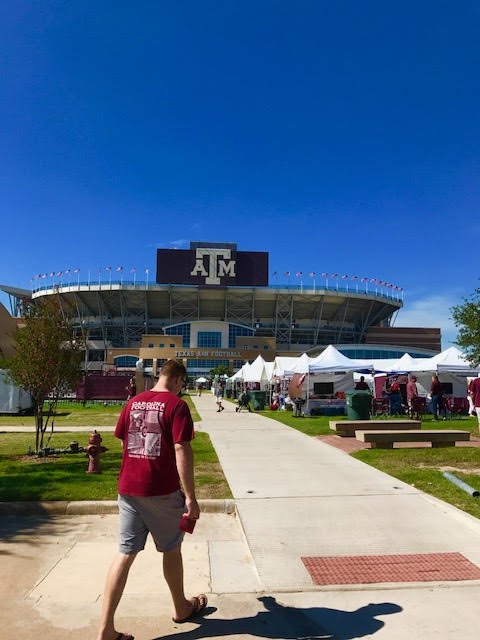 Everyone is nervous when traveling to other stadiums that they may meet some aggressive, drunk or down right mean fans…That was not the case in College Station! The fans were awesome and there was not one fight, altercation, or really anything negative from anyone that we came across that day.
While there, we did walk around the stadium multiple times (over 8 miles of touring tailgates on foot to be exact) and saw tons of tailgates and there was a great BBQ food truck in front of the stadium that had a bbq sandwich that was on point.
With having no vehicles it made it challenging to take around some product samples and keep beers cold so we were outfitted with a few backpack coolers to make this easier and the Polar Bear Cooler backpack did a great job of keeping the beers cold!
Hours before game time there were fans all around the stadium…I see why they call them the 12th man!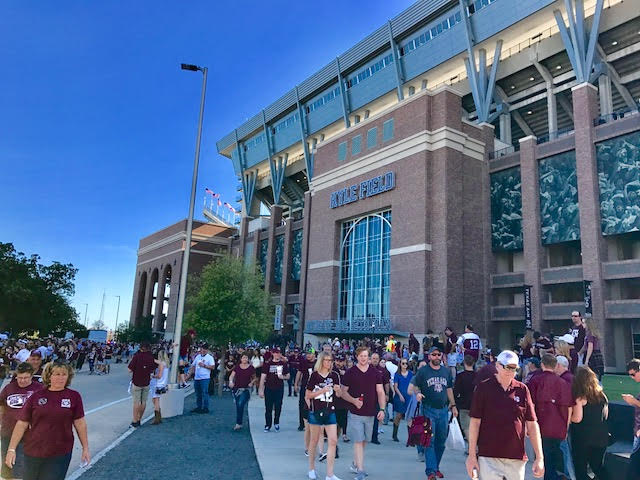 You know you're deep in the heart of Texas when horses are a part of the tailgate. There were many horses ready to help patrol the tailgates as seen in our quick video when we stumbled across where they kept the horses in the tailgating scene:
As game time approached we ran into a small problem: what were we going to do with the backpacks? We didn't have a vehicle or anyone tailgating that we could leave them with, so we had to improvise! We found some bushes near the stadium and tucked them in the bushes hoping they would be there when we returned (also was hoping no one thought we were planting a BOMB!)
From there we entered into the massive Kyle Field stadium to watch some SEC football on a Saturday night. Check out the inside of the stadium and the video on the team entrance!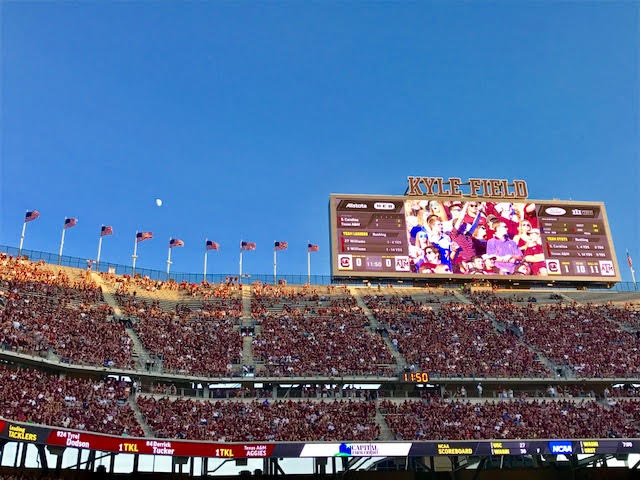 It was a tight game that Texas AM pulled out in the 4th quarter and the fans were LOUD! They also have a cannon that fires everytime the Aggies score that will literally shake you! Texas AM does not have female cheerleaders, but male Yell leaders that do an amazing job of getting the crowd going!
After the game was over we exited in the sea of people and were happy to find out backpacks still in the bushes. We hopped a LYFT to go back to the hotel and crashed after a long, fun filled day in College Station.
Nice job Texas AM. You throw a fun tailgate! Only feedback.. let me bring my truck to tailgate:)
Special thanks to Blowfish for Hangovers and The Restroom Kit for providing samples that some lucky fans got to use