Now that's something you don't hear about much, tailgating guns. Normally, if there are guns at tailgate it may not be the best thing, but today we show you some of the top tailgating guns that are sure to make your tailgating party more fun!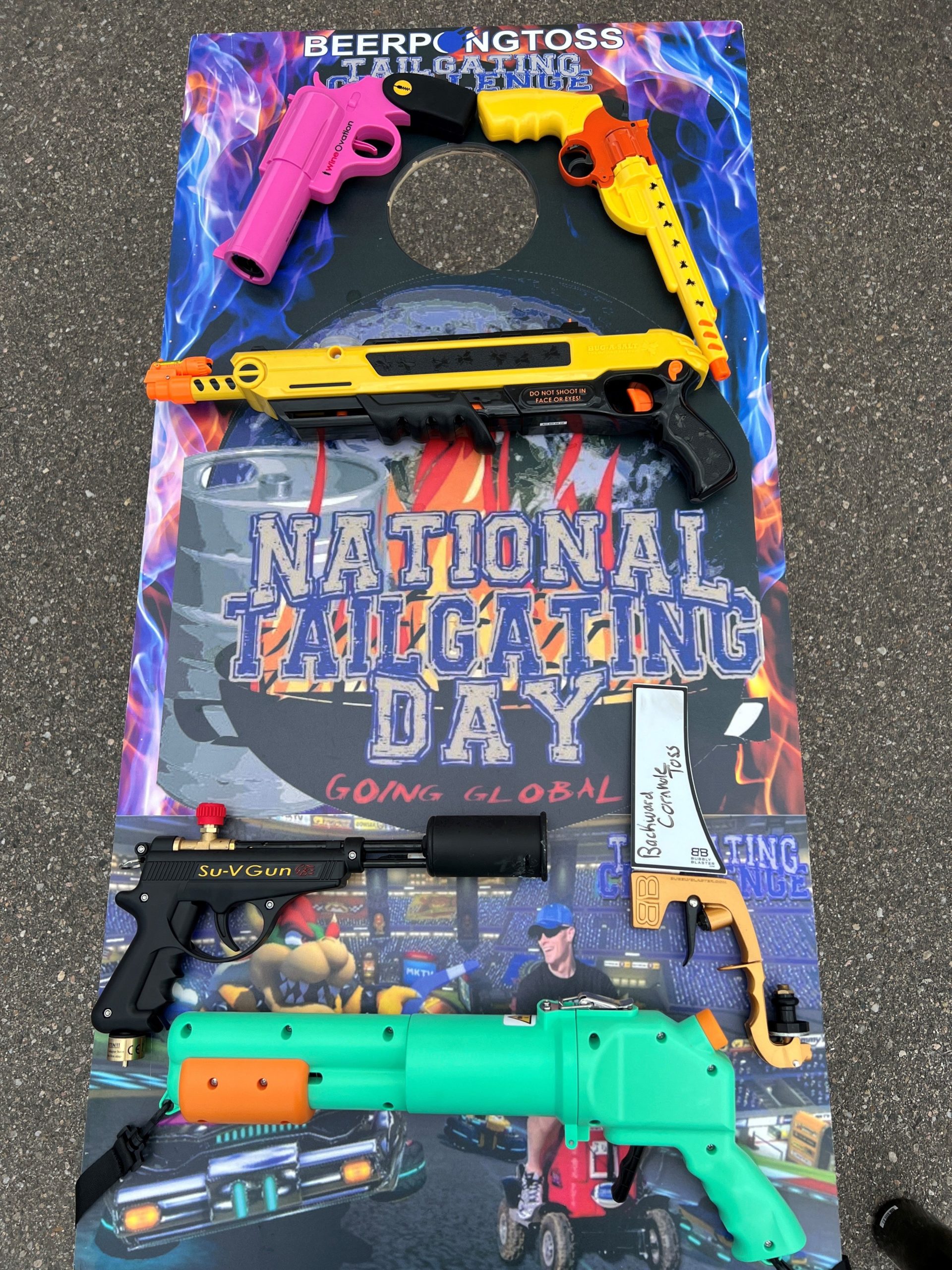 Bug A Salt
Bug A Salt guns start our list and we showcase both the original Air Rifle and their new CO2 power Shred-Er pistol. These will help spray salt to eradicate pesky flies, wasps and other bugs that are set to ruin your tailgate.
Check out the video below to see the Bug A Salt Shred-ER in action and then visit BUG A SALT to learn more and get your own.
ShotFun Shot Gun
Shotgunning a beer is one of the classic ways to get the party started at tailgating parties across the nation. You remember the old way of doing it right? Grab a key, puncture the can and then hope you don't cut yourself, or spill your beer. The ShotFUN shotgun lets you shotgun a beer in the most amazing way possible.
See how this works in the video below. You can get your own by visiting ShotFUN.
Wine Ovation
Sure I enjoy beer at the tailgates, but wine is a drink of choice for many. Enter the Wine Ovation, the pistol that can open your wine in the easiest and coolest way possible. Just place the barrel of the Wine Ovation gun on the cork and pull the trigger until it comes out.
See this wine opener in action and then get your own by visiting WINE OVATION.
GrillBlazer Grill Gun
Fire pits and grills are a great tailgating activity, but how do you light yours? With a match? Maybe a lighter? Time to step your game up with the GrillBlazer Grill Gun. This mini flamethrower is the most epic way to get your tailgate fired up.
See how this works in the video below and you can get your own by visiting GrillBlazer.
Bubbly Blaster
Your team just won! Let's celebrate with champagne showers! This is easier than ever thanks to Bubbly Blaster. This helps you spray champagne up to 30 feet. You can celebrate, shoot it into cups or even directly into your friends mouth.
See the Bubbly Blaster in action in the video below and why it was on Shark Tank. You can get your own by visiting Bubbly Blaster.
Conclusion
These were some of our favorite tailgating guns. Let us know what your favorite ones are. Did we miss a tailgating gun that should have made our top list, let us know? We love showing off the coolest products to our awesome fans. Watch the video below to see all of these tailgating guns in action.
Love learning about all the new products that we get to test? Take a minute and check out our latest PRODUCT REVIEWS.
We never get paid for our Top Lists, this way we can always keep it real with our fans.
Written By: Luke Lorick 8/10/22